Pathfinder I
"Are those Maxtrax?"
This was the question we received whenever anyone noticed our bright orange traction boards. "No..." we explained, "They are Maxsa Innovations boards."
We had been using these boards for years and they never let us down. They never broke and we were content with their performance. As we prepared for more and more trips, space became an increasing issue, and our Maxsa boards didn't store as well as we would have liked. We began researching, and after reading thousands of mixed reviews, we decided to find out which ones were best for us and our needs. It was then when we bought three other brands of traction boards.
If you have not yet watched our mud test, check out the video below!
The first boards we wanted to purchase were Maxtrax MKII. We had heard all the hype and needed to know if they were truly worth the price tag of $299 for a pair.
https://us.maxtrax.com.au/products/maxtrax-mkii-safety-orange/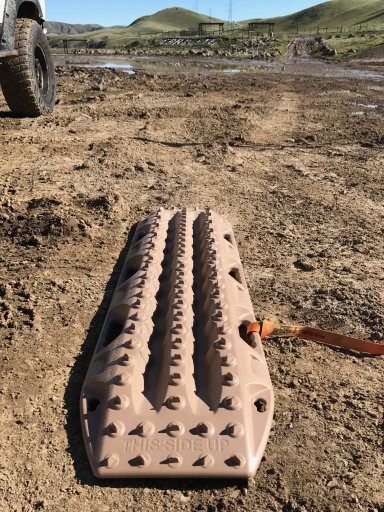 length: 45 inches
width: 13 inches
weight: 15lbs per pair
warranty: lifetime warranty against faulty materials and workmanship (no warranty for use)
repairs: kits available for damaged lugs
mounting: options available for spare tire/roof rack through many different retailers including Maxtrax
The second set of boards we purchased were the Tred 4x4 1100. Also made in Australia, these boards had a different design that we thought was worth looking into for $175.
https://www.tred4x4.com/products/tred-1100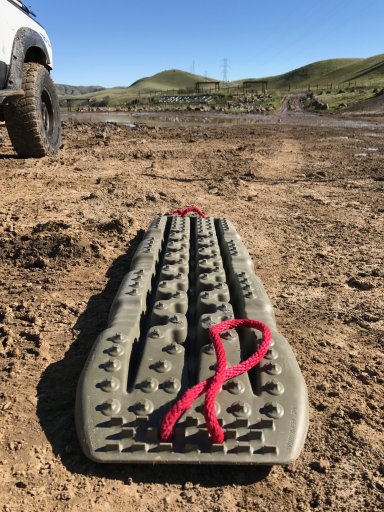 length: 42.5 inches
width: 12.5 inches
weight: 13lbs per pair
warranty: lifetime manufacturing warranty (no warranty for use)
repairs: none
mounting: options available for spare tire/roof rack through Tred 4x4
The third set we decided to purchase were Traction Jacks. These have a completely different design and folding capabilities for $199.
http://tractionjack.com/product/traction-jack-basic-recovery-kit-colored/
length: 52 inches
width: 12 inches
weight: 28lbs per pair
warranty: lifetime manufacturing warranty AND 1-year, 1-time free replacement if broken during use
repairs: homemade option to replace lugs with bolts- video available on Facebook
mounting: bag available to use in mounting on spare tire/roof rack OR when folded, they fit inside the vehicle
As you now know, we had already purchased the Maxsa Innovations Escaper Buddy for $250 on their website (or $125 on Amazon).
http://www.maxsainnovations.com/escaper-buddy-set-of-2-pieces/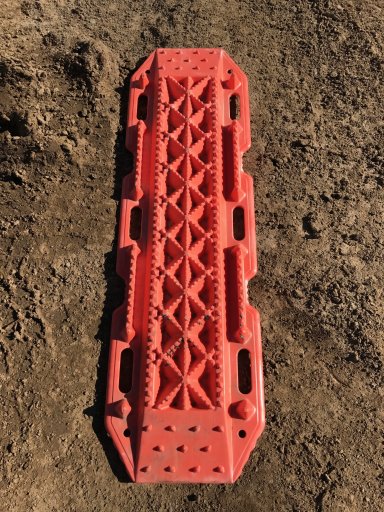 length: 47 inches
width: 12 inches
weight: 17lbs per pair
warranty: 90 day manufacturing warranty (no warranty for use)
repairs: none
mounting: none
Initial Impressions After Use
Maxtrax:
These boards have great stacking and mounting capabilities as they fit together for an extremely low profile when stacked. The Maxtrax feel sturdy yet also have a good amount of flex in order to mold to the terrain and cling to the tire. They are not directional, yet include a shovel on the underside of both ends. The lugs seem to be wearing faster than we would like, as a few of them are already almost gone after being used four times. The good news is, they sell replacement lugs made of metal. However, the metal lugs will take chunks out of your tire.
Tred 4x4:
These boards feel very solid, but also very stiff. They will not contour to different terrain, causing them to possibly break on terrain with large rocks. The stackability of these boards is good, but not a seamless fit with a low profile. They do have a very nice shovel on one end of the boards, however this makes them directional as opposed to the other three we reviewed. The Treds have very large gripping lugs at the beginning of the ramp which seem to bite on the tire effectively.
Traction Jack:
These boards are ideal for those planning on storing them inside their vehicle. The folding feature does not seem to hinder performance and can be helpful on uneven terrain or when trying to fit them under shorter vehicles that are bogged down. They are awkward to handle due to the weight and lack of handles, but the provided rope is helpful. The lugs on the Traction Jacks are very sharp in comparison and they grip the tire quickly. They are not directional, and there is no shovel feature on these boards, so be prepared to have a separate shovel handy for initial placement.
Maxsa Innovations:
These non-directional boards just work. They are not spectacular in any particular area. They do not stack well, they do not shovel, and they do not mount easily. However, they will get your vehicle unstuck. For wear comparison, they may discolor, but have not cracked, nor lost any lugs in the years we have used and abused them. These boards do flex, but there may be discoloration in those areas (we will take that over cracking any day).
Final Thoughts
If you want a board that has it all, then Maxtrax are probably the boards for you. We are inclined to keep and carry these boards on the truck since we have already bit the bullet and forked out the cash for them. We will also keep the Traction Jacks in the back of our Jeep due to their compact size and so far stellar performance. Both Tred 4x4 and Maxsa Innovations boards are capable of competing against Maxtrax or Traction Jacks and are ideal for those who do not have Maxtrax in their budget. All thoughts are subject to change as testing is still under way and we will keep you updated as we challenge all brands in snow and sand.
Don't let anyone ever tell you that your boards aren't as good as Maxtrax. It's up to you as they all work and have great qualities for different situations and types of overlanding.
Nick and Lisa DeLuca
@Mademan925
and @life_of_a_tw_wife on Instagram
Last edited: