Contributor I
60
First Name

Jermaine
Last Name

Seidel
I'm happy I stumbled upon this forum, just when I thought forums were dead since Facebook became a thing.
Greetings to all reading my long post, typing from the Netherlands, where there just isn't an overlanding scene. Two years ago I bought a bone stock, cheap Impreza wagon with 200k kilometers on the underpowered 1.6 16v boxer engine (95hp) powering the AWD drivetrain with DualRange manual transmission.
This car is what got me into off-roading, believe it or not. Took it for a spin with winter tires on some dirt roads in my area and it got me hooked.
I wanted to explore, find the limits of the car (and myself) and all it did was impress me. This Impreza impressed me...(I'll get to the thread title in a second).
When browsing YouTube I've found Australia's best known YTchannel: 4WD 24-7 (4WD Action back then). The entire vibe of offroading, struggling on Aussies toughest tracks and the rewarding destinations those guys capture on camera opened up a whole other dimension for me.
I've been wrenching on (nineties) cars since I've got my drivers license as a hobby, improving road performance, lowering cars, changing engines, overall tuning for best handling on track. But this is the first time I've lifted a vehicle.
Using a pair of used struts of a Forester, combined with 40mm strutspacers gave me a 3" lift. Some off-brand M/T 215/75r15 (27") fitted on 2nd hand lower offset aluminum wheels really topped the cake.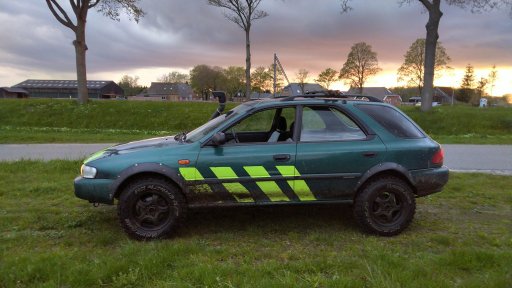 The green stripes on the hood and side of the Subaru are used to identify foresters' cars in The Netherlands. So the pun 'Imprezzed Forester' only works here, but I'm not a forester. It's just the link with Subaru's other model 'Forester' that I like to refer to, seeing I'm using some parts of it.
Anyway, I've been to 4x4 events and it's there where I can really test the "rig". The Netherlands is very limited to go offroad as a lot of forestroads are prohibited to enter with any motorized vehicle, to preserve 'Hollands' scarce nature. So legally accessible roads are way to easy, they don't offer any challenge.
Generally, Subarus are disrespected as an offroader, which I get. It has its shortcomings.
But still I've got eyes on me at such events as they expect me to get stuck everywhere, which I don't. Doing this does helps me find the weak points and limitations, I'll memorize those and adapt the car to better handle these situations.
Ultimately, to reach a goal.
Now it's getting a bit personal...
For almost 4 years I've been alone, lost my last two friends six, seven months ago and I'm not the type that is bonded with his family.
What I said about "opened a new dimension for me" meant that I want to go elsewhere.
I'm not a cityboy (who is, on this forum, really?), and I've always fealt attracted to Scandinavia.
Therefore I want to build my daily driver, this Impreza wagon in a way, I could 'survive' on my own. It feels like surviving already, but in a society that I'm not happy with. I love driving, riding at 4x4 events, but with the people I do those things, I never feel a connection as they are in another league.
I feel like I could just pack my things and head north, but I know my equipment is not ready so that is what is holding me back.
Really looking forward to see ideas about camping with just a car, DIY projects to be able to manage exactly that and generally just reading what others think about any aspect of overlanding.
I just want to take it to the next level.
-Jermaine