Influencer I
Jade is a 94 Jeep Wrangler YJ with a CJ front clip and tailgate. I live in her fulltime. In March of 2016, I began a 50 State Road Trip documenting almost every aspect of the adventure! You can see my vlogs here -
http://bit.ly/2hS8U5J
Presently, I utilize a cot to sleep on which necessitated the removal of the passenger seat. I need to find a better sleeping arrangement and storage solution as space is really at a premium! This will be Jade's 4th transformation since I purchased her in October of 2012!
The scope of this interior build will be to:
1) Add back and install a passenger seat
2) Design and build a 2 piece bed/sleeping platform that can accommodate the 2 seats
3) Design and Install a 2 drawer storage system beneath the sleeping platform
4) Install a 12V fridge/freezer
5) Design and Install an interior LED lighting system
Now on to the build!
Here is Jade sitting at the house of Travis & Spencer of
@jeepfreeks
who will be helping me design and build Jade's new interior!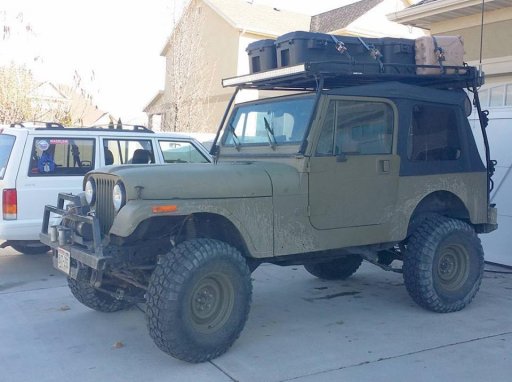 I first had to completely empty Jade's interior then install the new Bestop passenger seat -
http://amzn.to/2zC6nkn
- first time having a passenger seat since March 2016!
I then needed to install the 12V fridge/freezer which is on a sliding platform to determine the height of the sleeping platform - I have the Black Forest 31 quart overlanding off-road vehicle fridge -
http://amzn.to/2hHf050
- Then using 1" galvanized steel electrical conduit, we began forming the rear piece bed frame for the sleeping platform - here are 2 pics of the 12V fridge and back half bed frame.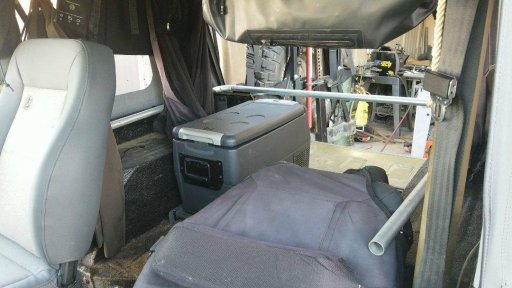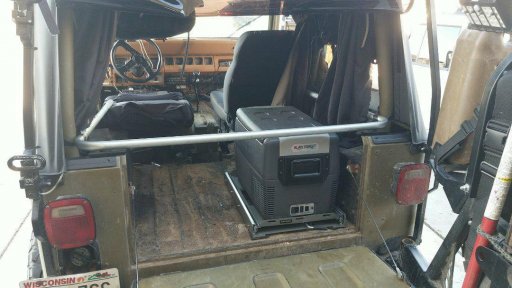 Moving on, we fabricated the front half of the sleeping platform. Here you can see the final bed frame fitting which measures 72x46 - almost the size of a double bed! How the bed operates - the driver's seat reclines back, the passenger seat tilts forward, the front section bed frame will slide forward and connect to the rear section to set up the bed - and it's FAST! Then to break down the bed, I separate the front section from the back, and it slides back and under the rear frame for storage when not in use.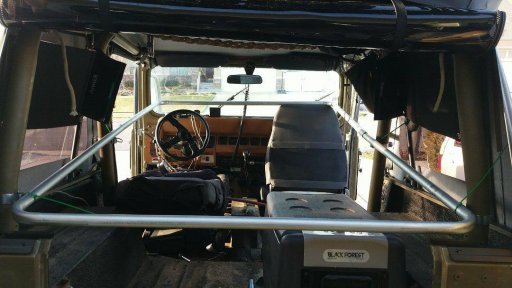 She's coming along nicely! More updates and progress pics to come!
Last edited: