Pathfinder II
1,545
First Name

Patrick
Last Name

Monson
Member #

16872
Well, that seems to be a mouthful but I wanted to make sure that it would show up in the search bar for the next guy looking for an inexpensive way to mount your spare tire to your hitch. When I started this endeavor I had looked and looked for a quality hitch mount spare tire holder that didn't cost $1000.00.
Don't get me wrong, I would love to get the Wilco Max but my budget just didn't allow it while trying to do other upgrades to my rig like a rear coil over lift.
So, I ordered the Curt brand spare tire holder thinking it would buy me some time to save up for the Wilco. However, when it arrived and I got the tire mounted up with a two inch spacer I noticed how dang heavy and awkward the thing was to take on and off every time you want to get into the rear hatch. So, back to the drawing board(Amazon and google image search). Here I found the "TMS Folding 2 Inch Trailer Hitch Mount Shank Adapter Cargo Wheelchair Carrier Fold Up" - great title name huh? So, now I'm into this setup for $69.00 for the Curt tire carrier and $36.00 for the folding receiver.
Now, to put them together.... Super easy actually! Basically cut off the lower half of the tire carrier at the weld. I'd suggest to be careful not to cut too close to the down tube as you want to avoid any damage to the structural integrity of this bar. I used a cut off while and cut within ⅛" of the down tube. I then put a flap sander disk on the grinder and cleaned up the tube. It's important to make sure you get this nice and smooth as this is what is now going to slide into the hitch receiver on the folding hitch mount. Unfortunately I didn't take any pictures until I was done because I didn't think it was going to turn out as nice as it did...
*decided since I didn't take picture I would draw some for you instead -
After the down tube is cleaned up drop it into the fold down hitch mount receiver and measure out the 4 holes that need to be drilled out for the pins. Pop in either pins or a bolt or a combo of the two like I did and you have a swinging spare tire mount that will move out of the way to access your back hatch.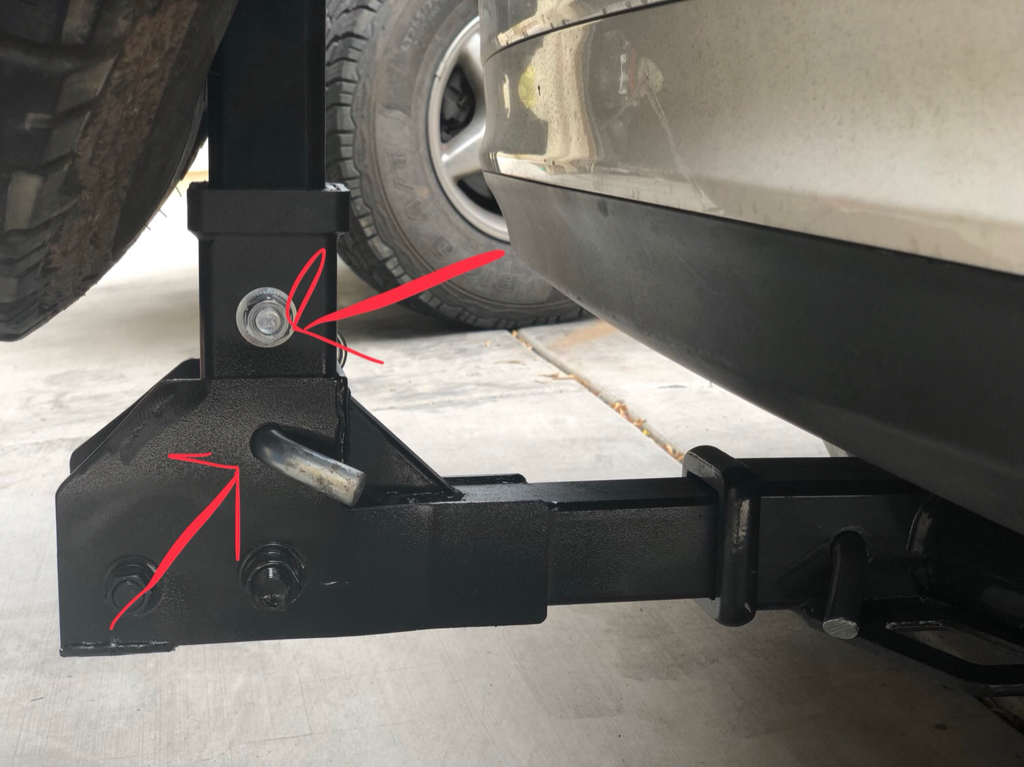 *These are the 4 holes that need to be drilled out of the down tube - use the holes already drilled on the folding hitch as reference -
A few other things you could add - I decided that the tire was swinging way too far down after I tested it out, so I added a bump stop using the lower pin holes that were already there. For this I just used a bolt and a piece of vinyl tubing that I had laying around. Now the spare tire swings down to a little more than a 45 degree angle that turns out to be pretty perfect for my setup. Lastly, paint everything you ground down to make it look pretty and keep from rusting and boom! Your done!
*This is the hole that I installed the bump stop that was just a bolt with a bit of vinyl drain line on the outside.
I hope this helps someone out along the way. It was a fun project that took about two hours to put together. If you have any questions or I wasn't clear on something feel free to ask away!
CURT 31006 Hitch-Mounted Spare Tire Mount
TMS Folding 2 Inch Trailer Hitch Mount Shank Adapter Cargo Wheelchair Carrier Fold Up
Sent from my iPhone using
OB Talk