Advocate III
1,739
First Name

Michael
Last Name

W
Member #

11674
Ham Callsign

KJ7FTN
Many of us struggle with the design and implementation of a kitchen setup for our overland adventures. For many that go solo, a simple single burner backpack stove is sufficient. Others are die-hard Dutch Oven aficionados, able to create the most complex of cuisine in cast iron, nothing short of artistry. I am somewhere on the other side of the spectrum. I would consider myself a "foodie" with a penchant for functionality. I frequently find myself cooking for my family and frequently for guests. Admittedly, some of my motivation for the scale of my kitchen setup is that my kids suffer from the "Hangry" debilitation, of which requires the ability to cook and serve a hearty meal quickly.
While most components are self-explanatory to the seasoned overlander, I will start by listing them to simplify the description. The components are as follows:
Blackstone 22" Griddle
https://www.walmart.com/ip/Blackstone-22-in-Griddle-with-Hood-Legs-and-Bulk-Adapter-Hose/179647360
ARB 50-quart refrigerator
https://www.4wheelparts.com/p/arb-50-qt-portable-fridge-freezer-gray-blue-10800472/_/R-BHWQ-10800472?ecmp=p:google_219701836_4661033356__dsa-27927708436&utm_source=google&utm_medium=cpc&utm_campaign=DSA&gclid=EAIaIQobChMImJ_LgqL43QIVBb7ACh1n2AnREAAYASAAEgILg_D_BwE
ARB dedicated 12-volt secured refrigerator port
https://www.northridge4x4.com/part/refrigeration-coolers/10900028-arb-threaded-socket-surface-mount?gclid=EAIaIQobChMIyKHeoqT43QIVDbnACh2wZQV-EAQYAiABEgLxoPD_BwE
C-Tek D-250-SA 12-volt DC-DC charger
https://smartercharger.com/products/dcdc/d250sa/
Blue Sea Systems fuse holder
https://www.walmart.com/ip/Blue-Sea-Systems-ST-Blade-Fuse-Block-12-Circuits-with-Negative-Bus-and-Cover/29860049?wmlspartner=wlpa&selectedSellerId=0&adid=22222222227019753669&wl0=&wl1=g&wl2=c&wl3=52502653631&wl4=aud-273067695102:pla-84063925031&wl5=9029626&wl6=&wl7=&wl8=&wl9=pla&wl10=8175035&wl11=online&wl12=29860049&wl13=&veh=sem&gclid=EAIaIQobChMI8q-c4aT43QIVk7XACh1zigwpEAQYAiABEgL_RfD_BwE
Duracell 12-volt AGM deep cycle 80-amp hour battery
https://www.batteriesplus.com/battery/sla-sealed-lead-acid/12/wkdc12=80p
Generic switch gear
Folding faucet
https://alexnld.com/product/360-rotating-single-cold-water-kitchen-bathroom-tap-foldable-caravan-boat-faucet-filter/
Collapsible buckets
500lb. lockable slides
https://truck-hardware.orrorr.com/viewitems/drawer-slides/s-heavy-duty-lock-in-lock-out-full-extension-slide
Fire extinguisher
10AWG duplex marine wire
A whole lot of 1 1/2" angle iron, 1" square tubing, and expanded metal
We really wanted a kitchen we could pull out of the vehicle with minimal fuss. Everything is self-contained within the cage with only a power and ground from the starter battery left behind. We are able to switch this off with a manual breaker/fuse under the hood. The complete assembly is bolted to the third-row seat belt mounts (third-row seats have been removed) and the jacking equipment is retained in their stock position. It is heavy- I'm guessing 160 pounds without the fridge and griddle. A fire extinguisher seemed a necessity with the proximity of the griddle to the vehicle and overhead hatch; but don't get too bent out of shape, the fuel filler is the other side of the vehicle.
Overall, I am quite happy with the outcome. The slides are heavy duty, there is ample prep space on the stainless-steel top, and components can be used independently of one another; with the exception being the griddle, which requires the counter to be pulled out. The C-Tek system functions silently and seamlessly. The fridge can run for about 2 days from my experience on the 80-amp hour battery if we are conscientious of how often we open it and the outside temps are not too high. I have a lot of open ports on the power system and would like to add lighting and a water pump in the future. It's surprising how often we use the USB power ports when they are so easily available to us. We currently use a 5-gallon blue water container we place on the roof and then siphon pressure to the faucet. We would like to replace the blue container with a flexible water bladder under the countertop (like what is available from Fleximake) in the future. We are even considering an Ecotemp L5 instant hot water heater, which would be nice for showers as well. We'll see. It is easy to cook for several people with the large griddle size, breakfast is fast and simple, and a super large square pizza is a quick crowd pleaser! I would like to make a grate to swap out with the griddle top for using pots or pans over the burners.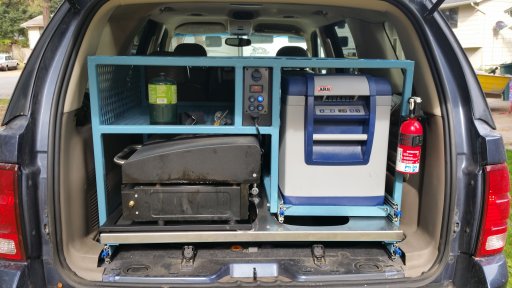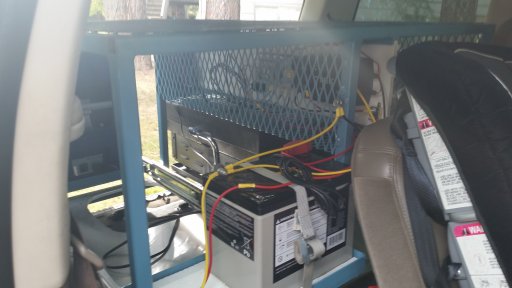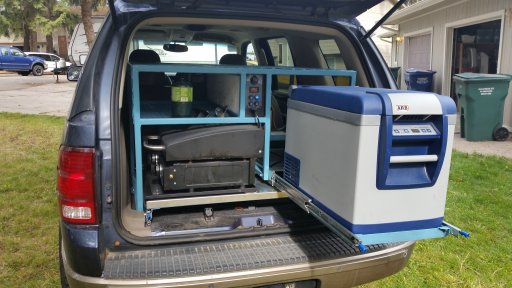 Let me know what you think! Any other product suggestions are greatly appreciated.