Pathfinder I
I've only made a few trips to Moab over the years and with so much still to see, we vectored our rig north and left the heat of Phoenix behind us. This trip was to be a special one. My dad finally, after many years of waiting, secured himself his dream rig. With a little help from his son he picked up a '95 Bronco with a solid axle up front, Yukon Grizzly locker out back, sitting on 35" tires and about 5" of lift. I like to find the limits of my FJ and now my old man could follow along.
Day one was a cool, breezy, overcast day. The light cloud cover caused the brilliant colors of Arches National Park to absolutely pop. I just wish I was better a photographer and could do justice to the amazing natural wonders we saw. It was my first time visiting Arches and we rolled out two ship along a 4x4 trail to Tower Arch. The road was plenty entertaining and offered some incredible views. Starting from the main entrance, we followed the main route through the park until Arches Salt Wash rd. From there we continued until we came across a road taking off to the left marked with a 4x4 sign. A rear locker and some ground clearance is helpful along this trail, but all in all it was nothing cosmic.
A shot of me and my Dad along with our two rigs
This is what can be expected along the trail. Again, nothing cosmic.
Once on the trail, route finding is easy and intersections are marked. Arriving at Tower Arch, there is parking area and it is worth taking the time to hike around a little.
Me and my Father-in-law, with my brother-in-law in the background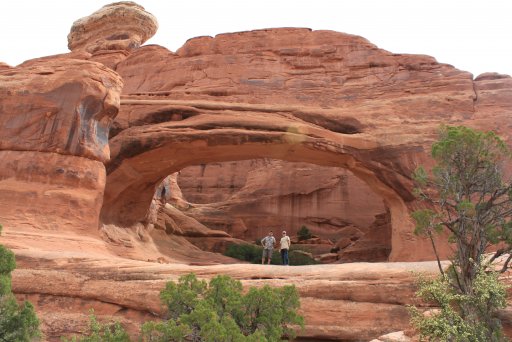 A shot of my Dad's rig further along down the trail.
Day two proved to be epic! The main goal of the trip for me was to run the Top of the World trail and park my FJ on a pretty popular rock at the end of the line. After showing my wife pictures of the trail, and knowing that I planned on hogging all the driving, she asked for her own rig and was determined to conquer this route with me. We headed over to Cliffhanger Jeep rental and acquired her a suitable vehicle...a two door Rubicon with 5.13 gears sitting on 35" tires. This was our second time renting from them and both experiences were very positive.
Leaving Moab for the trail, we headed east along highway 128 for about 30 miles making a right turn just before the highway crosses the Colorado River at Dewey bridge. While airing down at the staging area we gathered some intel from a couple of guys in Tacoma's who had just finished the trail. Their advise...stay right! And boy were they right. As you climb up and the road becomes more challenging, you'll find few points where the trail splits off and rejoins itself. A few times, we walked ahead just to see what we were getting ourselves in to. About a mile from the end, the trail forks and creates a loop. The easier/safest way is to stay to the right, which is what we did for the ascent. To the left, or eastern side of the loop, is far more challenging. More on that later.
The trail starts out around 4500ft and climbs to about 7000ft. Much of the route is littered with vehicle sized boulders to play on. We took very conservative lines as the goal was to complete the trail and reach the top!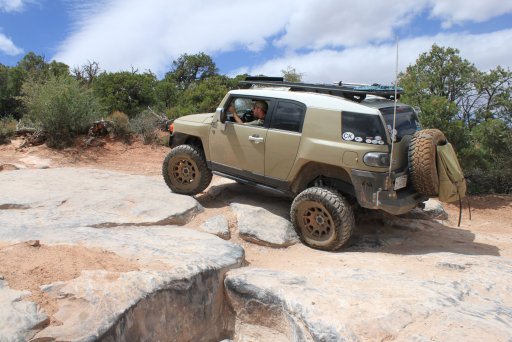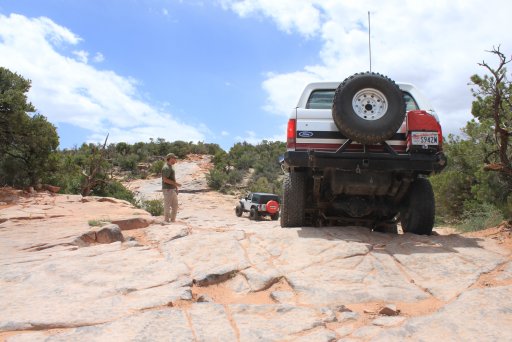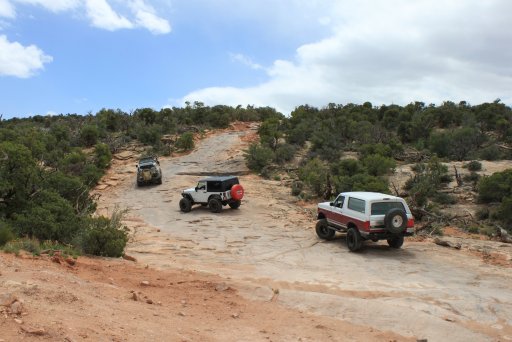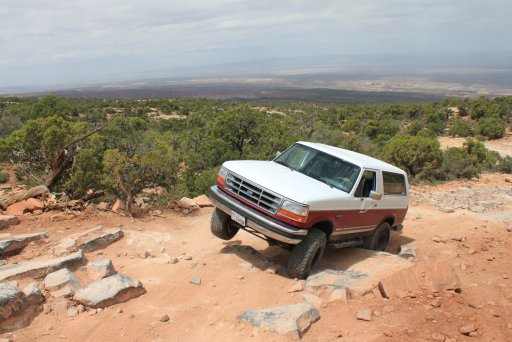 Reaching the summit we were all blown away by the spectacular view! Words cannot describe the feelings we had as we walked out to the cliffs edge. Truly, this was a special trail, ending at a special place.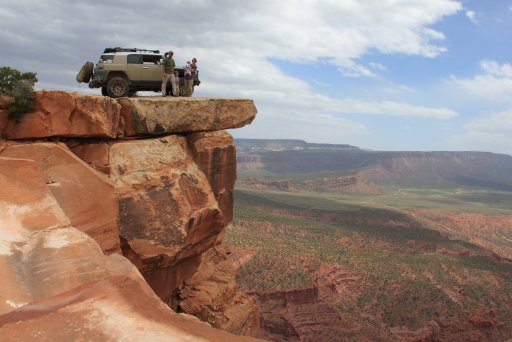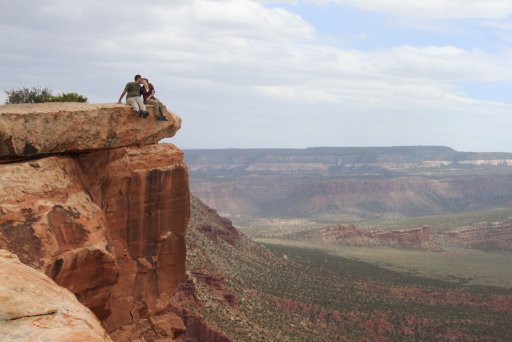 We all could have stayed at the summit for hours but we had a long road ahead of us and many more challenges. On the descent, we took the east side of the loop, and quickly wished we hadn't. For all of us in the group, this was the most challenging driving we had ever done. Lots of ledges with no bypasses and questionable line options for typical overlanding rigs.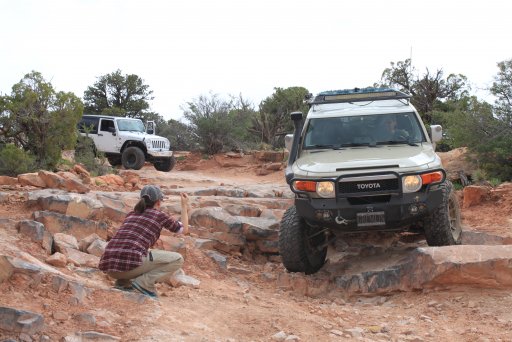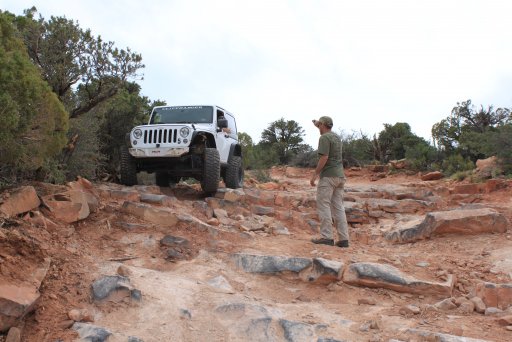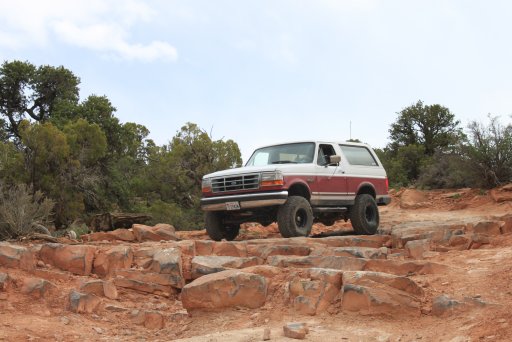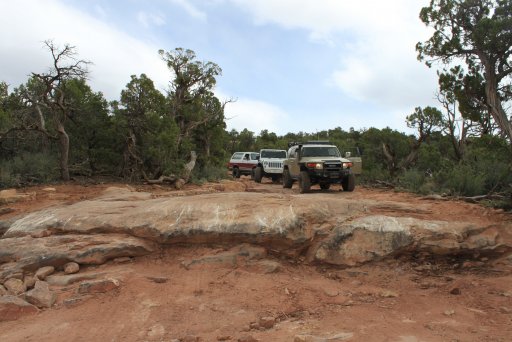 Hands down, this was the coolest and most challenging road I have ever driven and worth all the effort. I would highly suggest this trail to anyone stuck in Moab with nothing to do! As a recommendation, I wouldn't run this with a stock vehicle. 3" lift, at least one locker, and minimum 33" tires to get to the top. I would add skid plates for peace of mind if running the east side of the loop.
Last edited: