Pathfinder I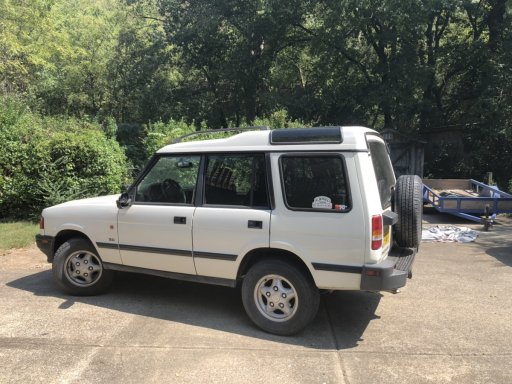 Found a '99 Disco 1 on Craigslist, listed cheap and clearly needing attention.
Brought it home and began making parts lists.
The theme of this truck to date seems to have been deferred maintenance.
Suspension-
Needed new bushings EVERYWHERE. The panhard bar could be clicked back and forth by hand. Upon wiggling the steering wheel the entire axle moves left to right as the radius arms are also toasted. The trackbar ends were shot, as were the upper ball joints locating the rear axle. I'm guessing it will need shocks as well but it's far to early to evaluate that with all the shakes it had on the drive home.
Brakes-
Lots of new parts here on inspection, but the pedal requires a double pump to get a positive stop. I'll start with a good bleed of those when I do my first fluid changes.
Engine-
Leaking(what Land Rover isn't?) from all over. Upon pulling codes I got a list related to rear O2 sensors. So I went to inspect them. I found the "Y" pipe loose and spewing hot exhaust at the O2 wiring. It had completely destroyed one of the connectors and several inches of harness. Have to get that fixed up before it can pass emissions. It should help fuel economy as well as it looks like the fuel system hasn't hit closed loop operation in some time estimating by the freeze frame data. Otherwise evaluation will have to wait until the exhaust is fixed up.
Body- the sheet metal is actually in decent shape, very much free of rust, but obviously has been out in the sun for a while. The rear static windows all need new seals. The sunroofs are inoperable, and appear to have leaked in the past. Those will need to be welded up. The factory roof rails also need to be pulled, though those holes will come in handy for antennae and electrical wires for the rack. The driver's side mirror appears to have been torn off by an angry gorilla.
Interior- the radio presents a "code" message, 3 of 4 power windows are inoperable, the driver's seat back won't move, and it appears the passenger's side switches have been flipped to this side. Leather is all thrashed and split. Carpets are dirty and smell of mildew. There was a free cassette tape in the center console. Headliner is gone, not fallen/hanging down, it's gone but there are some pretty stickers on the underside of the roof?
Tires- mismatched, but okay size and shape. My problem is that that they are a big "?". Have they been driven low and damaged internally? Are they out of round from the weight of the vehicle sitting on them flat? I've ordered a new set before I passed go. Don't want to bolt a slew of new suspension on only to wonder if tires are introducing shake/shimmy.
Driveline-
No maintenance records means I'll inspect the axles throughly at fluid change. I'll pull and replace all the u-joints in the driveshafts. Transmission is in a standard failed state for a 4hp22, a reversed sprag clutch has sidelined first gear now assessable only by using the "1" selector location. Transfer case lever moves freely on the lift, it's leaking but what isn't.
Electrics-
Began with a light check, bumper brake lights inoperable, no marker lights, turn signals iffy. No license plate lights. 12v outlet works, a/c controls work, interior lights(where equipped) are functional. Alternator is charging and a new(cheap) battery has just been fitted apparently. Unfortunately it's not tied down. :/
Summary-
While this truck has been driven and not maintained there's one thing I haven't found nearly any of. . . RUST! The frame and chassis is essentially rust free, making it a great candidate to bolt a pile of new bits too!
Budget to date-$1k includes purchase, tax, and transfer of tags.