Influencer I
2,894
Member #

15814
Ham Callsign

KE0EBF
The time has come for me to pull the RTT and awning off of my Land Cruiser and permanently attach them to a trailer...a trailer that is always ready to go!
Objective: Have a trailer that is always ready for adventure.
Goals:
Small cargo trailer that gear can be permanently stored in
Water tight construction
Have the ability to haul two kayaks
Hold a RTT and awning high enough so that I can walk under without ducking
Have the ability to mount my fridge on a slide
Tongue that allows for 90° jackknife
Run dedicated trailer 30/31" tires and spare to allow use behind a TJ or Land Cruiser
Allow for [future] electrical system expansion
Allow for [future] permanent mount water tank
I spent an agonizing amount of time reading various trailer build threads across the web to learn what sort of design would work best for my needs. I then searched various forums, craigslist, FB marketplace and local classified postings for a trailer that could be modified for my use. In most cases a good trailer candidate was sold before I could take a look, or it was astronomically priced. I then happened along a craigslist ad for a slightly overpriced trailer that looked to have potential. The ad had been up for over 20 days but it was still available when I inquired. It was probably still available because the seller would only take phone calls.
I went to check it out, negotiated a bit and proceeded to drag it home. My anxiety was sky high at the thought of dragging a trailer 80 miles home (in the rain) with no fenders, lights or knowledge of how the bearings looked.
The back way home took me through some of my favorite parts of Kansas.
I made it home with out incident. The hubs were nice and cool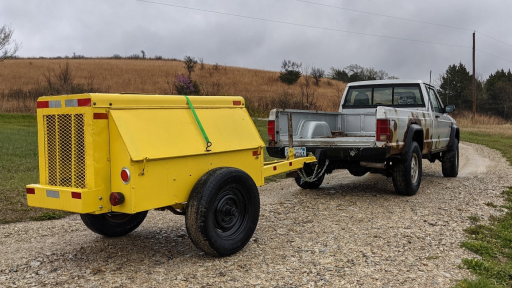 This is my arm chair plan for 'Yeller' the trailer:
Relocate axle under the tub at 60/40
SOA and shocks with 235/75R15 tires
2-1/2x2-1/2x0.25 hitch 'backbone' with receivers at the front and rear
1-1/2x1-1/2x0.1875 rack structure
The green boxes represent a kayak
Awning and RTT height is 6' 6" from the ground
Access doors front and year
Weatherproof side flip up doors
Paint (the yellow might go away, but the 'Yeller' never will)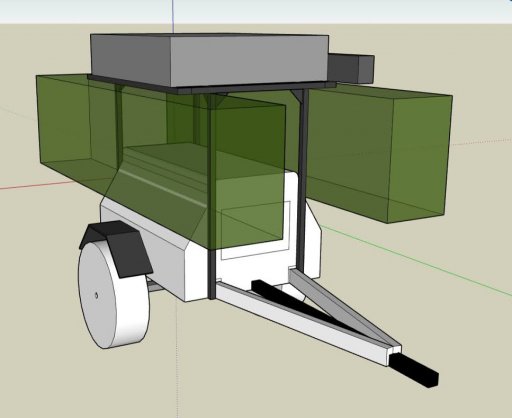 Last edited: