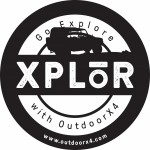 Rank V
Founder 500
Member
Supporter
Pathfinder I
Issue 13 of OutdoorX4 Magazine has published and you can view the digital edition by visiting issue13.outdoorx4.com.
We've expanded the page count to 100ppgs and it's a good one. If you're looking for a break from the daily grind, check out the new issue. Also, Overland Bound members get 10% OFF a subscription by using coupon code overlandbound at checkout. Sign-up by clicking the Subscribe to OutdoorX4 button on the bottom of the digital edition or by visiting
www.outdoorx4.com/shop
today!