Enthusiast III
1,798
First Name

Charles
Member #

17640
I have been looking at awnings for some time now there are so many to choose from.
I have seen awnings on trips that folded up like a taco from even a slight wind and many provided elusive to little shade. Some of the larger 270-degree units were either very weak or very expensive or both. I believe quality and good engineering are very important. I also did not want to pay too much money yet I do believe in "You get what you pay for" With several months of studying different types of awnings and visiting the Overland expo in Flagstaff and getting to see in person many of the offerings available. Manufacturers, pricing, quality and of course what fits my needs best went into my decision.
I came across a thread here on Overland Bound about awnings and someone mentioned a Nomadic 270-degree awning from
Overland vehicle systems
after asking the owner a million questions and hearing the right answers I decided to give the Nomadic 270-degree awning from
Overland vehicle systems
a try. It sells for $750 plus I decided to get the awning wall 1 for an extra $239 but the total was still under $1,000 shipped to my door. They have FREE shipping...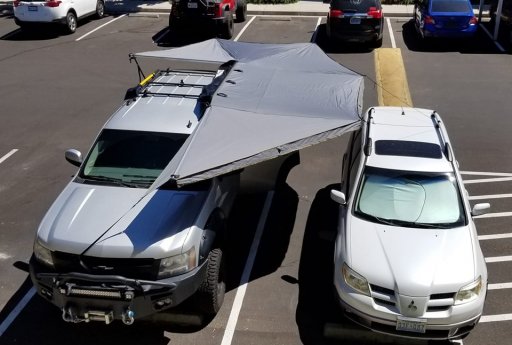 19519907 OVS Nomadic Awning 270 - Dark Gray Cover With Black Cover Universal
Installation was easy with heavy duty L-brackets and U-bolts supplied in the kit. They will easily fit most 1 1/2 inch or smaller cross bars. In my installation I used the L-brackets and drilled through my 3-inch-wide cross bars for a very solid mount. While working on it I learned something new about my Tahoe rack mount... They are NOT level the rear is 3/4 inch higher. I made my homemade cross overs months ago for my canoe but after measuring my side rail I found the rear is much lower. So, I made up a third crossover for mounting the awning 3/4 in. higher so the awning would be level with the ground. You can see in this photo the rear section has a much larger gap. My crossovers are wing shaped and too wide for the U clamps supplied with the awning. The L brackets are around a 1/4 inch thick.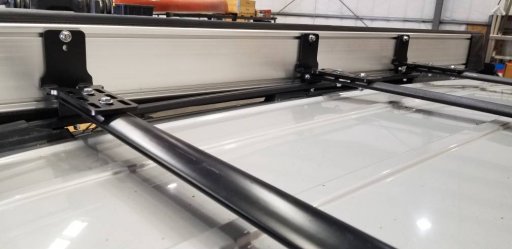 The arms are very strong with clean welds and stainless hardware throughout it is a well-designed unit. Canvas is heavy and blocks all the sun, so you won't feel much if any heat coming through it. This canvas is heavy duty so, I expect it to last a long time. The stakes look like very large nails with a plastic bar on top to hold the rope a lot like the heavy stakes you pay a buck or more for. Poles are strong screw adjustable yet very light weight.
The canvas is held in place on the rafters with large canvas straps you can see them in the photo below those straps also hold three support poles in place when they are not in use.
Opening it is fast and easy it takes about 15 minutes to open set three poles in place install wall1 and stake it out. The following is with awning wall 1 with the first section staked out with poles and side door opened up.
19519907 OVS Nomadic Awning 270 - Dark Gray Cover With Black Cover Universal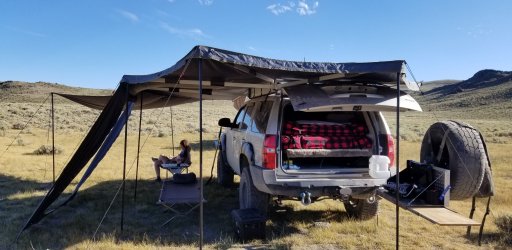 19519907 OVS Nomadic Awning 270 - Dark Gray Cover With Black Cover Universal
Pros; Strong, lots of shade, versatile, affordable, Right or Left side units are available, three wall sections available, ropes have reflective stripes in them with quick adjustments.
Cons; It takes a little more time and effort to get it stored away than it should. I would like to see them extend the length of the retaining straps so tightening them would be easier and making the outer cover slightly looser in the front so it might be easier to zip it up. Three outer walls cost almost as much as the awning.
I suggested they make another inner wall for this to section off part of it for more privacy. I highly recommend the
Nomadic 270 degree awning
it is a very good and usable product. It was certainly a hit with other members of Reno Overland bound.
Last edited: