Enthusiast III
1,798
First Name

Charles
Member #

17640
Sneak peak at my rear table build it will be mounted to the swing out tire carrier. This will be mounted to a sub-frame and that will mount to the swing out. So I will be able to install it on another truck if I want to. The table top is made out of an aero space aluminum composite.
This is a slide out track it will have a wooden board that will double as an extended table and a chopping board too. It will extend the 32 inch table another 24 inches for a total of 56 inches long.
I decided to use a piano hinge because it is more rigid than standard hinges are.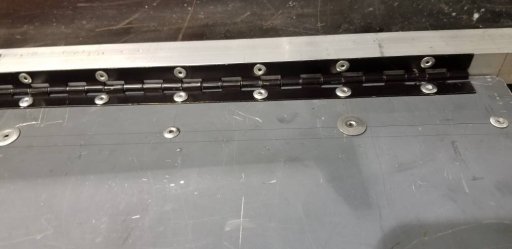 The aluminum sandwich composites inner core is an aluminum honeycomb bonded with two outer sheets of aluminum. This stuff is so strong it is 32 inches long and 15 inches wide and I can stand on it with minimum flex. It is only a 1/4 inch thick and weighs less than a pound.
Last edited: