Enthusiast III
1,798
First Name

Charles
Member #

17640
We started out with a bone stock 2011 Tahoe with a single speed transfer case.
First step was pretty big adding some lift with a Rancho 4 in lift kit. To improve the suspension and smooth out the bumps I installed a RS 7000 suspension front and rear. Then installing a FabFour bumpers up front with Warn 9500 winch. To keep the rear end from looking odd I also installed a rear FabFour bumper.
Note:(For more serious off road adventures I would suggest checking out a 11.5 inch travel kit by Baja kits and installing a set of king shocks and going with a 6 inch lift)
With the lift kit installed we were able to install a set of Pro Comp 9x17 rims and 315/70x17 Cooper AT-3 tires. I did get over 40,000 miles out of them. (But, I just installed a set of 35/12.5/17 Goodyear Ultra Terrain AT tires and I like them much better)
To help light up the night a Ridged Hybrid Spot / Flood light bar was added to the front bumper along with a set of 4 in. spot lights.
So this first step took about 5 days and it looked like this...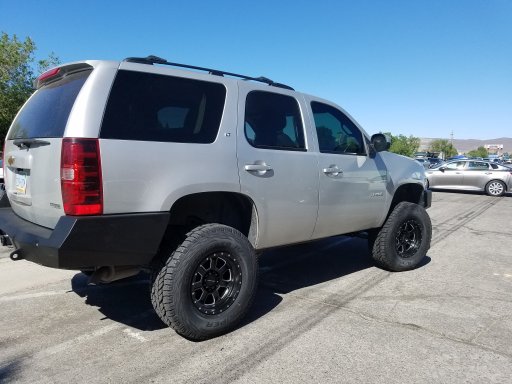 After a few months I was getting pretty tired of the poor MPG that had dropped from 18-21 MPG stock to around 12. So an idiot at a local 4X4 shop in Reno recommended and installed a set of 4.88 gears for me. Well that was a terrible idea because the gearing was way to deep and acceleration really suffered. The mileage dropped to a high of 10 MPG plus the gears were installed wrong and started making a lot of noise... So I decided to do my own calculations and had another shop install a set of 411 gears this made a big difference improving the MPG to 16 to 19 miles and it also improved acceleration considerably. Total cost on gearing changes over $5200..
Note: I could have added a blower for about the same price.
Next step was to give it a more aggressive look and to get the tires covered up so it would reduce the amount of dirt and mud spraying on the side of it...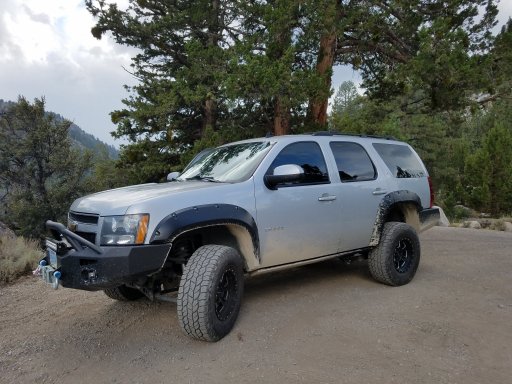 Since we do toss a canoe on top and the stock roof rack has plastic end pieces I offen worried they might break sending our fiberglass canoe down the road without a paddle.
I found some cro moly steel shaped like a wing laying around my shop and was later told they might have had a previous life as a wing spar on a bi-plane... These are much stronger and lower and lighter than the stock set on the right.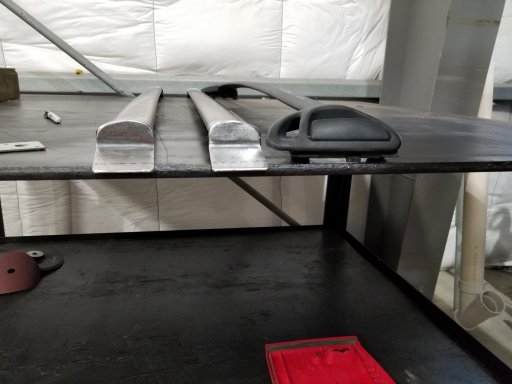 Installing them was easy a 1/4 drill and bolt through the stock rack system then added a set of canoe bunks for the boat. This modification also improved the MPG when hauling the boat on top because of a reduction in frontal area and improved airflow and was quieter too. I love a win win.




Since the 315x70x17 tires were to big to fit in the spare tire storage my first solution was to put it in the back with a board on top so I could put things on top of it. Very crude idea but it worked and it gave me an idea for a future modifications.


Next I installed a new swing out spare tire rack it was much better and it allowed me to install a shelf back there...
Last edited: