Like most of us we have to start with and an idea, somewhere in our mind we make the choice that we want more from the vehicle we bought and how can we achieve this?
I bought my Xterra with the sole purpose of taking my family and friends with me to Tahoe for snowboarding, little did I know it would take me to the places I have been.
Pretty much stock, just got a spacer lift and shackles put on along with 32" Pro Comps.
Then after a few outings I decided I need more, I would like to take this vehicle all over and be able to live out of it if I must.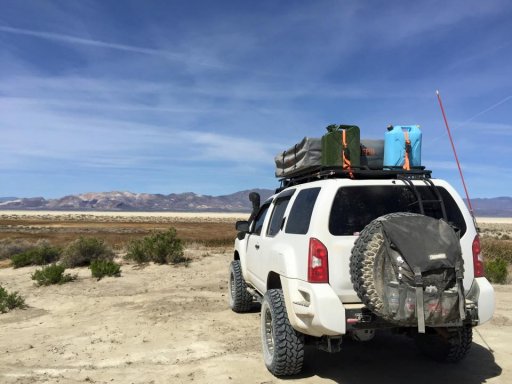 Interior:
Advanced first aid kit
Raingler large roof net
Rear (left) Side Molle Panel on window
Pro Clip iPod Mini mount
Exterior:
Asfir full aluminum skids
Shrockworks Dif cover
Insain Fab rear tire carrier
Tube bumper (still needs to be mounted)
Gobi stealth rack
Gobi passenger side ladder
Air Flow snorkel
Volant CAI
Tepui Kukenam RTT
Trasharoo
Suspension:
Bilstein 5100 front and rear
2'' Body lift
Daystar 2" shackles
PRG upper control arms
PRG 1.5 Spacer
Wheels/Tires:
16" Pro Comp Wheels
35'' General Grapplers AT tires
Last edited: