Not into ranks, titles or points.
Member

Advocate III
3,379
First Name

Road
Last Name

Dude
Member #

6589
**SOLD**
For Sale: Brand New, never used, still in the box 50" Pioneer Rack Rear Roller.
As seen in the last image (courtesy Pioneer), it attaches to the rear of your rack to facilitate loading RTT, ladders, lumber, sheet goods or whatever other gear/material you might put up there.
Comes with 1x Pioneer Roller with outer sleeve, attachment brackets and hardware. Made from Alloy and Mild Steel.
This steel roller, Pioneer part # 43131, is 50" and will fit Rhino Rack #s 42104 and 45104, though can be attached to
any
roof rack or ladder rack.
Pioneer's MSRP is $136.00.
I'm selling this for $79.00
+ shipping CONUS
.
Curbside Pickup in Portland, Maine or + shipping lower 48.
Also for sale locally and on other forums.
..
..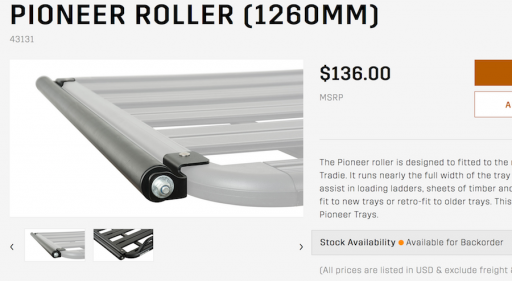 ..
MSRP is $136.00. I'm selling this for $79.00 + shipping CONUS.
Don't hesitate to leave word below, DM me, or best bet, use the
Contact Page
on my site if you have any questions or want other images.
.
Roaddude - Traveling Photographer/Writer/Artist On the Road In North America. Gear, reviews, people, places, and culture.
roaddude.com
Last edited: