Contributor II
Well, the wife and I were looking into purchasing a travel trailer in the 16 foot range. After we looked at a few we decided they were to big and with more amenities then we really wanted. So the search for a teardrop or expedition trailer began. After doing a few searches we realized 75% of expedition trailers were out of our price range and most teardrops were not big enough for our family of 3 and a dog. So after doing a search of a local dealer we found this: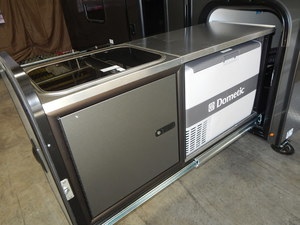 They are made by InTech Rv out of Indiana. All aluminum tube frame, dometic fridge, 2 burner stove, stereo inside, and a Foxwing awning. The interior area is 60" wide and 98" long and the roof rack is strong enough for a roof top tent (an add on option from the factory if wanted).
Website:
http://www.intechrv.com/max.php
So after doing some research on these we ended up putting a deposit down on the model pictured and we get to pick it up on Saturday!
I will post some more pictures when we pick it up and some action shots. This will be my build thread for the many modifications to follow.
Enjoy!!!