Influencer II
Charging batteries connected in parallel.
Ever wondered why a bank of batteries connected in parallel seem to fail sooner than expected?
Most of us connect a bank of batteries together in parallel, which is, electrically, the correct way to increase capacity at a given voltage (in most of our cases, 12v). Depending on how the vehicle is set up to be used, one, or more, batteries are used to provide power for a variety of uses. Winching and off grid sustainability being the two most common that overlanders need to consider. Choosing the size and number of batteries depends completely on individual requirements in terms of power usage, but in general, the more, the better, within reason. Weight being the biggest consideration.
However, how many of us have considered that they way we charge these batteries in parallel is the reason one, or more, fail prematurely?
The following aims to help understand how to charge a bank of batteries that are connected in parallel correctly and reduce the failure rate, therefore saving us a few $$ in replacement battery costs.
Unbalanced Charging: It's all about resistance.
Some assumptions:
All batteries in the bank are the same (type, age, size). For example, you should not connect a deep cycle battery with a starting battery (I bet most of us do though), or connect an older battery with a new(er) battery.
Figure 1 below depicts how most of us connect a bank of batteries. But, this results in an (electrically) unbalanced system due to uneven resistances in the wiring and connections.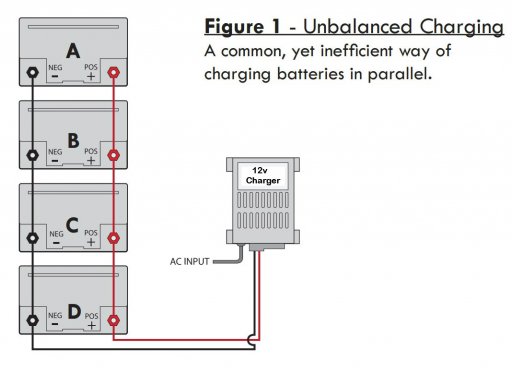 The first battery in this configuration will receive a higher (faster) charge than the others and be worked harder under load than the next one and subsequent batteries.
Theoretically, each battery will charge and discharge at the same rate (i.e. current flow), but this is not the case in reality. Small, but measurable, differences in resistance between each battery connection reduces the current flow through each of those connections as shown in figure 2.
Balanced charging is the way to eliminate these differences by evenly distributing the resistance of the connections across all of the batteries. Doing this allows for balanced charge and discharge, therefore gaining the best life potential from each battery and ensuring they all have a similar, longer, lifespan.
Balanced Charging: The correct method to charge batteries in parallel.
The simplest way of achieving balanced charging is to connect from each end of a bank of batteries. In the example below, each battery will draw current through exactly the same number of connections. This is a far better method than demonstrated in the two examples given in Unbalanced Charging above. While a difference still exists (approx. 15%), it's much less of a difference than before. However, this is still not perfectly balanced.
This method of charging can be used on both an even and odd number of batteries.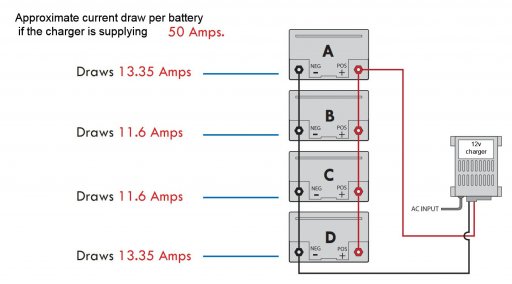 Perfect Balanced Charging
As well as looking to make sure each battery is charged through the same number of connections, what is also important, is that each connection is identical to the next. i.e. the wire gauge and lengths are identical. This is important (especially wire gauge) to ensure that the resistance of each connection is the same throughout the system.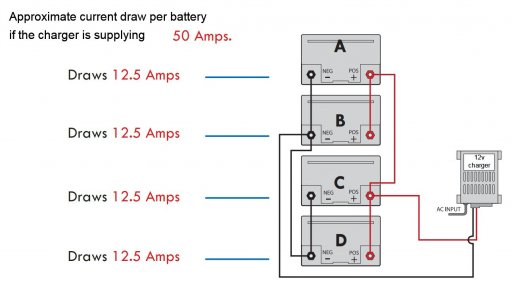 Note, the drawing above is a schematic, making it look like the negative connection from the charger is longer than the positive – this is not the case, they should be the same length.
Likewise, the connections between each battery should also be identical lengths. And to re-state, they should all be the same gauge.
This method of charging will ensure that each battery draws the same amount of current from the charger, therefore maximising the life of each battery because they charge and discharge at the same rate as each other.
This method of charging can be used on an even number of batteries.
An addition to this would be to incorporate a desulphator, would could increase battery life by 2 to 3 times. These work by adding a pulse to the charge. This pulse is driven at a known frequency that breaks up and dissolves sulphate crystals that form on the battery plates.
While the above may be considered overkill and too much down to the last detail in terms of design and installation, by following a few simple rules, the life of your auxiliary batteries will be extended, saving several $$ along the way.
In reality, we will probably break a couple of these "rules" (for example, mixing starting and deep cycle batteries and different lengths of cable between the starting and the first auxiliary battery), but, we could also learn from differences between unbalanced and balanced charging.
It would be worth considering changes in wire gauge (larger) to compensate for longer distances, thereby maintaining similar resistance of each connection. There are tables available from cable and wire manufacturers that will help work out the volt drop, at given voltages, per metre (or foot), but you still need to find out the resistance of the cable or wire you have bought per metre (or foot) before you can figure out the volt drop.
In the world of overlanding, most of us have a split charge between the starting and first auxiliary battery, in which case we're stuck with what we have, but in some cases, we may keep them separate by using two alternators and in some vehicles, mains (shore or generator or solar) power might be used to stay on top of battery charging while parked up. In any of these cases, the principal of equal resistance of each connection should be considered to ensure maximum battery life.