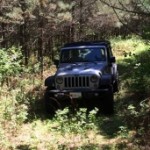 US MidWest Region Member Rep
Member

Member II
This is a restoration/build thread for my dad's 1997 Ford F150 XLT Supercab. My dad passed away in June and my mom doesn't have room at the house to keep it so I've taken it into my possession for the time being.
We've had this truck since 1999. When we got it, it had right around 19,000 miles. My dad had a full size truck previously, but got rolled it when someone hit him. He then had a 1992 Ford Ranger regular cab 2wd manual with the 4 cyl until he got this truck. He took great care of this truck as it was his pride and joy. He always had a smile when he drove it. We took many camping trips in this truck, running three wide in the back with Mom and Dad up front. My personal favorite trip was in this truck when we went from Minnesota out to Yellowstone National Park, Glacier National Park and into Canada, ending the trip at Banff National Park in British Columbia. I learned how to drive in this truck.
My goal is to get it fixed up and running properly. No one in my family is getting it yet, but I have told my mom that I want it when the time comes. If this ends up in my possession and possibly beforehand I will give it a full frame off restoration. That's how much sentimental value it has for me.
Currently it needs to exhaust manifolds fixed as they have the all too common exhaust tick, a thermostat, and most recently the AC compressor blew up on me when I was driving it to work. It has a lot of rust that needs to be taken care of as well.