Off-Road Ranger I
1,586
First Name

Jordan
Last Name

Moore
Member #

9411
Ham Callsign

KD2NFZ
My DIY awning. Wanted something that could support multiple configurations (3 different sizes), be self supporting (no poles) if the winds were calm, but also support windy conditions if need be , could swap sides as needed, be packed externally during travel and not get in the way of rack space for boats, and be removed entirely when not needed. Budget ended up being about $150 ($190 if you buy all 3 separate tarps). I splurged a bit on the tent/tarp poles. Everything packs down to about 53" long.
Parts list and sources listed below the photos. I didn't include specific instructions because the final fitting will probably be unique to each vehicle and rack setup. There are VERY few complexities, so the pictures should provide the basic idea pretty well.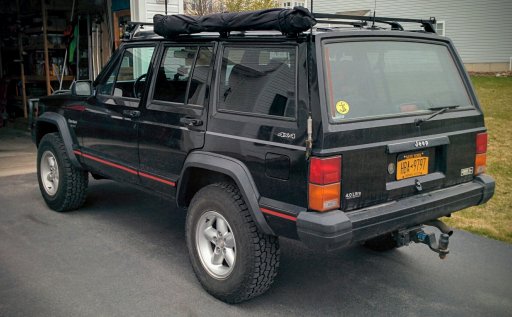 TARPS:
These are all light weight nylon based backpacking tarps. They weight next to nothing, make less noise in the wind, and can be packed down to almost no space. They can simply stuff into the bag. They all have built in grommets. The smallest is the 6x7 that could be used in a self supporting configuration, provided that the primary extension poles can be mounted 6' apart on the roof rack. You may need to size tarps for your particular application.
OUTRY Waterproof Multi-Purpose Tarp - Tent Stakes Included - 3 Sizes Available
Size 5.9 x 7.2 inch
by OUTRY
Link:
http://a.co/e56YHgm
$17
The next tarp is of similar dimensions to the first but is an octagon shap which allows for a little more side protection from sun and blowing rain and provides more locations to tie down for high wind conditions.
TRIWONDER Waterproof Hexagonal Hammock Rain Fly Tent Tarp Footprint Ground Cloth Camping Shelter Sunshade Beach Picnic Mat for Hiking Picnic
Size: Grey XL
by TRIWONDER
Link:
http://a.co/4FBCNci
$23
This is the largest of the 3 tarps and is intended for an unusual configuration where one of the primary extension poles is mounted to the roof rack extending rearward. Then the tarp poles are used to pitch the tarp half way out or all the way out.
TRIWONDER Waterproof Hammock Rain Fly Tent Tarp Footprint Camping Shelter Ground Cloth Sunshade Mat for Outdoor Hiking Beach Picnic
SIze: 118 x 86 inch
by TRIWONDER
Link:
http://a.co/5q6WxXu
$18
The idea is to have all of the tarps in the same bag. So additional benefit is that you have spare tarps for other purposes should you need them. All are actually designed as hammock, footprint, and general use tarps. But not to be confused with the heavy duty plastic tarps you buy at hardware stores.

HARDWARE:
Probably could have saved some money on the next item, but I wanted all aluminum poles with tarp spikes, and they needed to be no longer than 53" in order to pack away in the bag. So these are 3-section telescoping poles. They are high quality and probably come from the same factory that the lowes all alumninum poles come from. They have a very similar build.
Adjustable Telescoping Aluminum Tarp and Tent Poles - Portable Camping, Hiking & Backpacking Accessory - Set of 2 Rods with Carry Bag - Strong, Lightweight, Corrosion Resistant - Fits All Grommets
by Green Elephant
Link:
http://a.co/ehq5KiN
$45
I used these to strap the primary Lowe's paint extension poles to the roof rack. Something quick and easy. But they are strong enough that I could easily travel with the extension poles mounted on the roof rack. Perhaps if I was traveling from one park to another, and did not want to take everything apart. You could probably save money on this step, or use whatever you have laying around.
ENVISIONED Reusable Cinch Straps
Size: 1x12 inch
by Envisioned
Link:
http://a.co/6YDgXYn
$14
This was a good find. Perfect for packing everything down into one bag. Bags are one of those things that can cost a fortune if you don't look around. For example, if you could even find a bag of this size in an "outdoor" category would probably be $100+ just because of the outdoor label and the unusual size. But look one category over at musical equipment and microphone bags, and they are dirt cheap. This one has stalwart zippers and handles, and the nylon is very durable. Very much an outdoor capable bag. I sprayed it down with water proofing just to keep the inside dryer should I travel in the rain. Though nothing packed in it would be hurt by getting wet (all aluminum). This bag is 58" long.
Gator Cases GPA-SPKRSPBG-42DLX -Channel Speaker Stand
by Gator
Link:
http://a.co/4uMfiPY
$25
This was about the only item not purchased on Amazon. It is hard to beat the price for these either. They are 3-section all aluminum painter's poles. They are about 54" collapsed. They are advertised as 5-12 foot poles. They have zero wobble, but of course the more they are extended the less overlap each pole has internally. That is why for the bigger configurations, I purchased the additional tarp/tent poles. Plus between these poles and the tarp/tent poles, the configurations become almost limitless, and you can help a friend should they need a pole for something.
Lowe's Hardware
5 - 12ft 3-section Telescoping paint pole
https://www.lowes.com/pd/Ettore-4-7-ft-to-11-9-ft-Telescoping-Threaded-Extension-Pole/3399644
$48 ($24 x 2)
Total:

$190 (including all 3 tarps)
$150 (Just the 6x7 tarp)