Advocate III
3,921
First Name

Craig
Last Name

M
Member #

5444
I love playing with knives! :D
I have a pretty good number and cycle through them a lot. I usually take a few with me when I camp, each with an intended task, but really just for fun.
Here are the bulk of my fixed blade knives, minus a few scattered around in dedicated kits. Nothing too high end, the most expensive few were in the $100 - $125 range but some, like the Mora classic #1 and 2, were under $20. This is a VERY MODEST collection. I prefer to pick up knives like these one here and there, more as an inexpensive collecting hobby. I play with all of these, and am not gentle with them. Regardless of price these are all hard workers and very capable.
*To give you an idea of scale, the one in the upper left is 10" overall, 5" blade and 5" handle..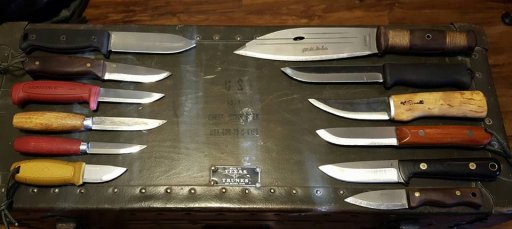 Left Side (Top to Bottom):
Ontario Knife Company, Blackbird SK5, USA
Enzo, Trapper, Finland
Morakniv, Basic 511, Sweden (great $10 knife!)
Morakniv, Classic #1, Sweden
Morakniv, Classic 2/0. Sweden
Morakniv, Eldris, Sweden
Right Side:
Condor, Primitive Bush Knife, El Salvador
Terävä, Jääkäripuukko 140, Finland
H. Roselli, Hunting Knife, Finland
Woodbear Knives, Blackbear, USA
Blind Horse Knives, Woodsman Pro, USA (*most often on belt while camping)
Condor, Mini Bushlore, El Salvador
I like axes too.. Here are few of them, the others I have are around the house type users:
Top to bottom:
Council Tool Dayton Head, 32" (if I remember correctly), USA
Husqvarna Multipurpose Axe, 26", Sweden
Gransfors Bruk Small Forest Axe (with Ray Mears Bushcraft branded handle), 19", Sweden
H. Roselli Axe, 18", Finland