Traveler I
Here she is:
Open to ideas and suggestions!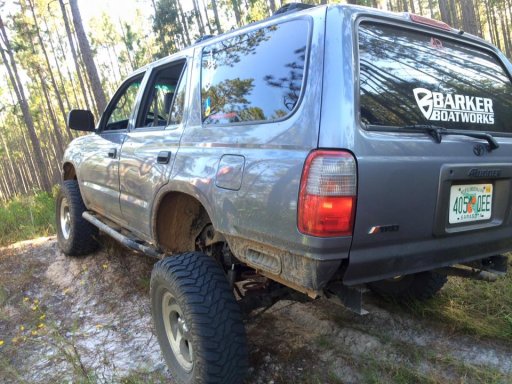 Engine:
-2.7L with 190,000 miles
-2WD :(
-5 speed
-Cold air intake
-AEM Dry Filter
Wheels:
-Stock 15" Upgraded Rims from factory
-Cooper Discoverer STT PROS 33x12.5x15
-1.25 Sixity Auto Hub centric Wheel Spacers
Suspension:
-Font: Tundra 5100s with 99 Tall Coils
-Rear: RC Coils and Shocks
-Hub to fender:
-Front: 23 1/2"
-Rear: 23 1/2"
-Fender to ground:
-Front:40.5"
-Rear:40.5"
-rear sway bar bushings
-.5" body lift
Exterior Mods:
-Running Board Removal
-TRD Badging
-Satoshi Grille Mod w/ lighting
-Black Plasti Dipped Emblems
-Red panted stock horns
-Red painted skid plates
-OEM Roof Rack
-TRD Stickers
-Sport Hood w/ Mesh Insert
-Trail Gear 67" Rock Sliders
-Custom Rear Bumper
-hitch tire carrier
-CB antenna mount
Interior Mods:
-TRD Shift Knob
-3D printed Cup Holders
-Push Start
-Custom Rear storage unit
-99+ center console
Exterior Lighting:
-24" LED light bar
-2 4" LED Reverse Lights
Interior Lighting:
-Blue Dome Lights
-Blue Floor Lights
Sound:
-Pioneer Head Unit
-Pioneer Speakers in all four corners
-TRD Antenna
Recovery/Tools:
-Smittybuilt 20,000lb Tow Strap
-Red D-Ring Trailer Hitch
-Metric Wrench Set
-Metric Socket Set
-Screwdriver Set
-Set of 4 Ratchet Straps
-Bungee Cords
-Misc Tools
Maintenance:
-Clutch Replacement
-Re-Built Transmission
-New Steering Rack
-Replaced Tie Rods
-New Power Steering Belt
-New Alternator Belt
-New Air Conditioning Belt
-New OEM Lower Ball Joints
Really want to get into more overland style offroading. Few things I want to get soon are snorkel, full length roof rack, and then also increase my rear storage size so that I can make it into an extra sleeping area.
Last edited: