Off-Road Ranger I
1,888
First Name

grub
Last Name

worm
Member #

17464
Ham Callsign

WRMA515
Looking back, it seems that I always knew how to roll a fatty. When my oldest son was in high school and talking about going to college, I knew it was time for him to learn. Fast forward a few years and he is now a junior in college. We just did a camping trip together in the Ozarks where I witnessed him rolling the perfect fatty. Not only did he roll one for himself, but he also rolled one for the old man. A lump formed in my throat and a tear rolled down my cheek as I realized my baby boy is now a man....
As everyone knows, a "fatty" is an over-stuffed tortilla usually filled with a variety of left overs that were destined for the trash can, but when combined in a tortilla and topped with cheese and hot sauce, it becomes a formidable meal. A true fatty is so over-stuffed that when rolled, the ends may not even touch and both hands are required to wrap around it to to hold it together until finished. When camping, a fatty is the perfect way to use small amounts of left overs that aren't capable of making a meal on their own..
As with the start of ANY good meal, start by heating a pot of cooking oil...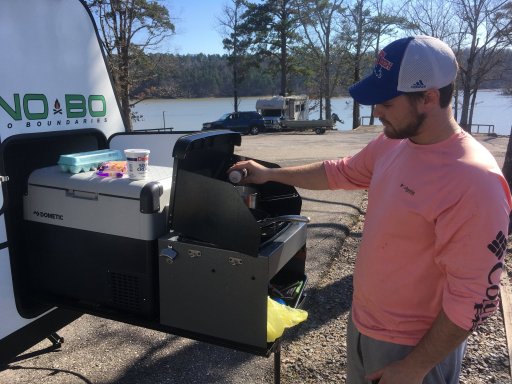 Add a base of fried potato slices to a large tortilla
Add egg, cheese and any left over meat/meat product/meat by-product
Top with avocado, sour cream and hot sauce
PERFECTION!
Notice the perfect execution of the two handed grip...that's my boy!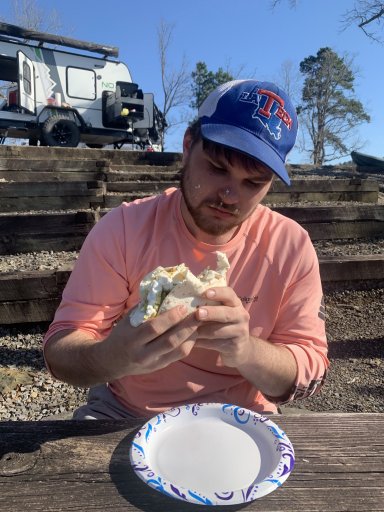 Well done, my son...well done....
Stay with me for the next thread: Rolling a Fatty at Broken Bow...
Last edited: