Not into ranks, titles or points.
Member

Advocate III
3,379
First Name

Road
Last Name

Dude
Member #

6589
Well, the title of this thread says it all, pretty much. I've been pondering the purchase of a kayak to take along on my wanderings.
Mostly for getting out there alone for fishing and photography, though I may have a dog at some point and would like to be able to accommodate another person from time to time, so a tandem is more appealing.
Wondering what you have and how you like it and, as this would be my first kayak--done lots of canoeing over the years--any tips you might have for what to look for.
I'm presently leaning towards an inflatable kayak for a couple reasons. Packing, mostly, in that I won't have to keep moving it out of the way on a rack or on top of my RTT, but also so it is not as likely to go missing. I'm not one to hang overland bling all over my van or trailer, and keep my tools, jacks, shovels etc as inside as I can other than when actually on a trail.
I don't really need a sleek expert-level kayak, either, but one I can get out on lakes and slow moving streams and perhaps along the occasional ocean shoreline.
I looked at an interesting folding kayak, but in the end decided against it as being not as stable and likely more of a hassle to put together, and not as long-lived.
So, having an inflatable kayak seems to fit the bill, so far. I'm looking mostly at the
Aire Tributary Tomcat Tandem Inflatable Whitewater Kayak
, though with a long-assed name like that I'll probably call it Fred. Maybe Shirley.
Has a more rigid floor than others, has stong and movable thwart seats, and can be used solo with gear or tandem with another person. Packs up to around 25 x 21 x 16 and weighs between 42-50 lbs, depending on which site you look. That's plenty doable for an 82yr old like me and with my mongo van, I'll be able to secure it inside on day jaunts away from camp, or in my trailer for longer rides.
It's $799 most places and at REI I'll get $79 back in dividends.
Anyone have personal experience with one of these, or have experienced advice on another I should consider?
Suggestions/advice on paddles, other gear for the applications mentioned above? I don't see myself doing whitewater rapids, so won't need specific gear for that.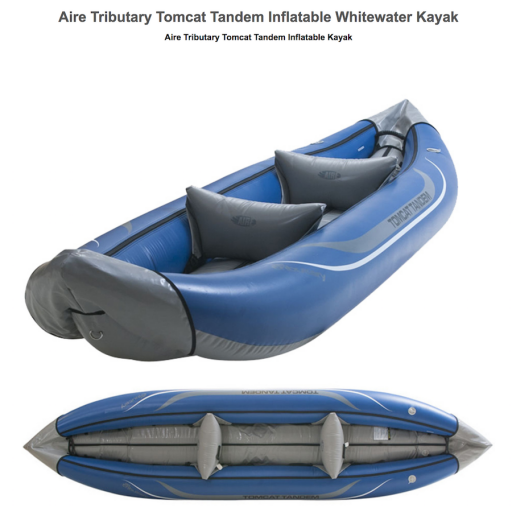 Last edited: