Enthusiast III
1,116
First Name

Allen
Last Name

Murray
Member #

27152
I started out my exploring in a Suzuki Samurai that I built and drove for several years. It went through several iterations over those years. Huge tires, small tires, gear swaps, engine swaps, lockers, no lockers, racks, tire mounts, pretty much you name it.
Samurai at its most built. Locked up and geared, it was unstoppable.
And where it ended up.
The huge tires, tall gears and such are gone. It drives better, rides, better and is 95% as capable. But as much as I love it, it was still too small.
Enter the Cherokee. It's a 2000 4X4 Sport.
As bought in 2016. For 4 years it has pretty much stayed the same beyond maintenance. I replaced the tiny rack with a larger one and threw the spare on the roof to make space in the back and install a cheap drawer setup, but that's about it.
For those years, it's been beating around the Francis Marion National Forest and the Southeast and done very well at it.
But now it's time to expand my horizons. I have plans to run several of the overlanding trails over the next several years. I will probably end up running them solo so the XJ needed some upgrades. This process was started before I joined OB so I'll bring y'all up to date.
The first step was the roof rack. The cheap Amazon special had to go. It was drizzling rust all over the XJ every time it rained and had to go. A little digging and I settled on JCR XJ rack. It was one of the few specifically designed for the XJ and I liked the way it was built and looked.
Next up was the bumpers. Running solo much of the time was going to require a winch and the factory bumpers weren't up to the job either so I ordered a set of JCR bumper kits and built them myself.
Much like Ikea furniture, they come flat packed and some assembly is required.
Rear built.
Front built.
Since there was no way my finish work was going to be powder coat or paint worthy, I decided to spray them with bedliner.
Overall I was pretty happy with the finish.
The winch chosen was a Xbull 12k with the Synthetic rope. More within my budget than the Warn. Better warranty than the Badlands. It also had a easily relocated relay box so I could keep it out from in front of the radiator.
We will have to see how well it holds up.
I had installed a AGM house battery several years ago to power the fridge, but making only short local trips I had never installed the charging circuit. While I was doing the wiring for the winch, I ran a #10 wire from a isolation solenoid to the house battery and installed circuit protection in everything.
Winch breaker. It will also allow me to turn it off.
Circuit protection on both ends of the house battery charge circuit. These will also allow me to isolate the batteries from either direction.
One under the hood.
One back by the battery.
Since I'm not going to be running a huge lift and tires, I wanted to make sure any water crossed didn't shorten the rods in the engine. A snorkel was needed.
Installing the snorkel cost me the windshield washer reservoir which was inside the drivers side fender. There isn't much room under the hood of the XJ so I installed a couple of bag reservoirs for the front and rear windows.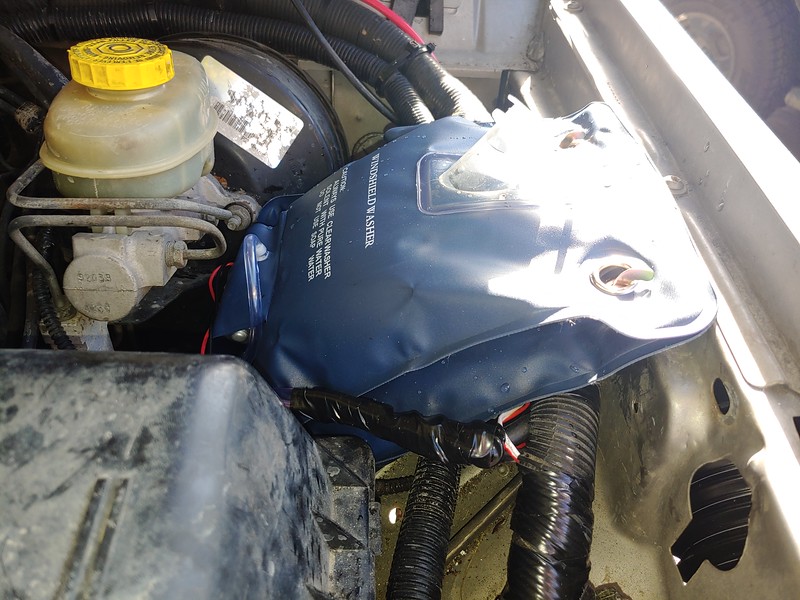 The last step made was a set of 31x10.5x15 tires to replace the 30x9.5x15 tires. I went up a size more for the width instead of the height.
Current project is a spare tire carrier for the back.
It swings on a trailer spindle and bearings. I'm building it our of 1"x2" tube.
The latch and stuff I hope to get finished up this evening.
That brings this thread up to date. Next up will be a set of 2" lift springs for the rear and a set of Fox shocks. I hope to get that done this weekend.
More to come.
Last edited: