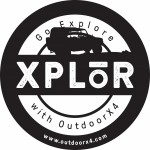 Rank VI
Founder 500
Member
Supporter

Advocate III
Many of you may not know but last year, OutdoorX4 Magazine relaunched a Jeep magazine entitled Jeepers International that was first released, and lasted only one issue, in the summer of 2000.
After debuting the relaunched Jeepers International at SEMA last November, the magazine received a lot of praise for its broad range of editorial and photography with a focus on the Jeep lifestyle throughout the world.
Unfortunately, in late January 2019 the magazine received a Cease & Desist letter from corporate attorneys representing FCA regarding the use of the word "jeepers" in the title. Their claim was they owned a trademark on the name. After our attorney reviewed and thoroughly researched the matter, it was determined the claim was erroneous and we were entitled to use the term as media as it is fair use.
The link below details the series of events leading to the name change of the magazine and it's being shared here so you are aware of how little FCA actually values its enthusiasts and the media who has been passionate about its products. We hope you will read this, share it with friends, and let people know that FCA apparently cares more about corporate bullying than it does in preserving its relationships with us and at the end of the day, with YOU as enthusiasts.
OutdoorX4 LLC Publisher Frank Ledwell discusses corporate bullying by FCA US attorneys and how this resulted in a name change for Jeepers International
jps.outdoorx4.com
You can view the second issue of the magazine, now branded as a Special Edition of our flagship overlanding magazine OutdoorX4, by reading it in digital at
http://currentjps.outdoorx4.com
. If you like the magazine, pick-up a subscription and help support niche media focused on quality editorial and imagery on subjects we all enjoy.