Contributor III
154
First Name

s
Last Name

K
He guys!
Last weekend i finally had the chance to use and test the kitchen module i made some time ago.
(Build here:
"8020" KITCHEN MODULE..
)
The kitchen module is basically just a frame out of aluminum extrusion with 2 drawers made from
euro style (60x40 centimeters) storage boxes and a fixed top box that houses the Primus two burner stove.
The top box is covered by a aluminum lit that serves as a table surface when placed on one of the two drawers.
As basic as it is it took me some time building it..
Plywood would have been cheaper and maybe a bit more simple to build,
but i like the overall look of the aluminum extrusions and the plastic PP drawers are lightweight and saved me building drawers myself.
For now the module sits on top of the tailgate and that works ok but i would like to build a slide out platform
for it in the near future.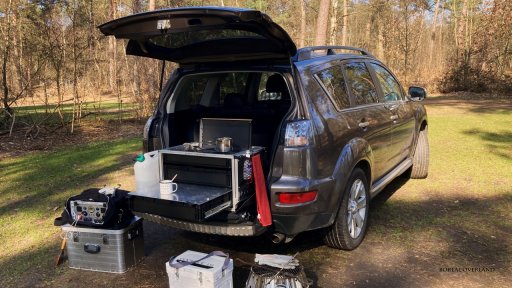 I used netting on the sides and back of the module, to hold the gas kanister, paper towels and so on..
My DIY 105AH LifePo4 pack kept the drone alive and my mate's new frigde running like a champ.
(Build here:
DIY: 105 AH LITHIUM POWERBANK with VICTRON MPPT and SMART BATTERY PROTECT
)
The aluminum lit worked great as a table / prep surface.. as long as you don't need to get stuff out of the drawers it sits on every 5 minutes. I only store my pots and pans in the bottom drawer, al the good things
in life like my coffee are in the top drawer!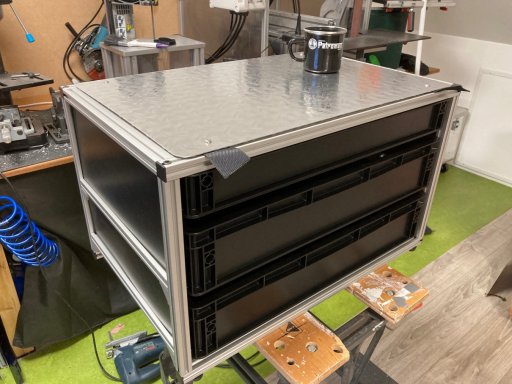 I really liked the way it worked this first weekend of use..
So much better than diving into my old alubox (first pic. bottom left) every time i need something to cook with or make coffee, something like 2 simple drawers make a big difference in the ease of use.
As we speak i am working on a slide out platform for the kitchen module, stay tuned!
Cheers,
Steve.