Not into ranks, titles or points.
Member

Advocate III
3,379
First Name

Road
Last Name

.
Member #

6589
.
A thread to discuss and document the ongoing process of planning a new interior for my long wheelbase diesel van.
Though I'm not seeking advice on how to do any of this
(this ain't my first rodeo in modifying van interiors or cutting BFHs in van roofs), you're welcome to comment. I may try and reserve several posts after this to see if it works.
This new interior and potential pop top will be, I'm sure, a long drawn out process over many months. I'll work on it when I can--weather permitting and budget allowing--in between adventures, hopefully.
This afternoon I dragged out everything from the giant closet the van turned into over the last year. I started dry fitting gear to better visualize new side storage and lower cabinets I've already designed in my head, with dozens of rudimentary scale sketches on paper.
Also planned are upper cabinets, installing a Nature's Head that I've had for a couple years but never installed, and, hopefully, a new raised roof and pop top of my own design and fabrication.
I've been sewing my ass off the last year and taught myself a lot about sewing and dealing with heavier materials. I have a few heavy duty machines capable of multiple layers of canvas and leather, and am eyeing another machine used primarily by cobblers that is used a lot in thicker leather projects. Designing and sewing tent sides for a pop-top sleeper is a fun challenge I'm looking forward to tackling.
Two images from today, 2021/0413 - the start of planning in a more hands-on way than sketches and designs in my head:
....
- The Nature's Head will go inside the side doors at left, in front of the bike.
- Figured a more efficient and neater way to stow my ebike and will incorporate a small cubby of sorts in the side cupboard on that side to accommodate the derailleur protector so the bike fits closer and more securely to the cupboard.
- The new layout will be similar to my last (below), with a sleeping bag-sized bed possible down either side or anywhere across the length of the van.
- The new side cupboards, though, will be approx 5" taller to accommodate the Nature's Head and MWCs and maintain a consistent sleeping/sitting height all the way around, no matter where the movable bed is placed.
- Adding 5" in height to the side storage (between the fridge/water jugs and the van wall in the image above left; better seen in the last image below) will increase storage capacity by 31%; a substantial increase in covered storage of items I don't use every day. The side storage is the same on each side of the van, though the passenger side storage is shorter in length because of the side barn doors.
- The two MWCs behind the fridge will be for fresh and waste water for a removable cabinet I'm designing with sink, faucet, and running water.
- Along with a new midway shelf for strapping longer objects I want quick access to like tripods, new upper cabinets on both sides, and taller lower side cupboards on both sides, I should be able to minimize the amount of gear that is not stowed away, as in this image from my last long adventure: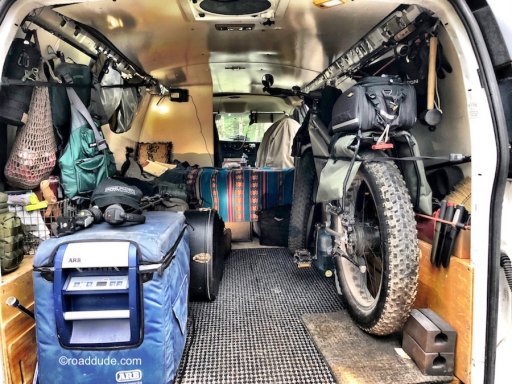 - The new layout is based on easy, quick removal of all gear and new lower case cabinets, leaving the side cupboards in place.
- When removed, I'll have a full 52" wide between wheel wells and 117" from rear doors to the half bulkhead of unobstructed space. There is another 27" of floor the other side of the half bulkhead to the seat bases.
That's 144"; twelve feet of floor, another half again as long as a full size pick up bed. That's a lot of damned room. It is the primary reason I love long wheelbase extended body vans.
I'll still be able to haul building materials, sheet goods, etc AND retain a ton of side cupboard storage when helping folks build off-grid or helping someone move, etc.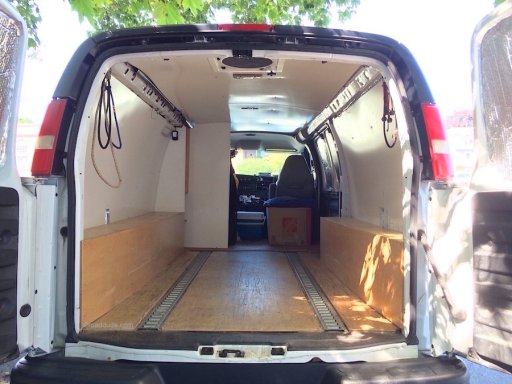 I installed this floor and e-track and built these side cupboards over eight years ago. Each side has three lids with finger holes. They hold an amazing amount of gear and tools.
The new taller, side cupboards will flare to full width at the rear doors like those above, narrow slightly at the wheel wells to 52" wide, then maintain that to the far end. I may put in some tilt forward panels or lower drawers to facilitate ease of access from the deeper cabinets, though FRO Cub Packs will fit on end in the side cupboards along most of their length, so I may just depend on those for pull out storage, or build some thin-walled birch ply boxes to do the same.
The full width at the rear helps funnel cargo, pallets, or whatever I want to load without having cabinet ends exposed to potential damage at the rear. It's been a fabulous arrangement, so I'm keeping a similar footprint and making it taller.
- The Nature's Head will go at the far end of the side cupboard on the right.
- New (used) solar panel that matches exactly my existing panel will go on the roof with a 100ah AGM in the far end of the lower cupboard on the right, with charge controller and fuse box above. Room left for a future 1000w pure-sine inverter.
- All new upper cabinets will be permanent and leave the central space unobstructed as well.
- New lower cabinets for sink, the MWCs, and cases and containers will be secure and attached and easily removable should I want/need to return it to full cargo carrying.
Also in the works is a raised roof with self-made pop top which:
- When down will increase headroom inside by approx 12" for the middle 8' of length.
- When popped up will have a full 88" high of standing room over the middle 8' of length.
- Will have an upper bed of approx 56" x 78" that can be slid in place, leaving an open, full height space of around 30" wide at the back end by the sink from which to access the upper bed. No moving bed panels just to get down.
- When the upper bed is in place, I will still be able to sit and work below, or sleep below if I have company sleeping above, with about the same height as I have with the current roof.
- The upper bed area will have a sitting height of 36" - the same as the hardshell RTT on my trailer.
One big reason I'm thinking seriously about making a raised roof and pop top is to expand the potential for using my van as a mobile photography blind and bunker on shorter photography jaunts when I don't take my trailer. To be able to stand and shoot from inside for night sky photography or wildlife, and have a larger space in which to be comfortable when working on images, especially in foul weather, will be wonderful. I love it the way it is now and have been very comfortable, though to have more desk/work/quick-access storage space, full standing height for shooting, and have a working sink in the van will be handy.
Other big reasons to further modify the van with better storage, more sleeping options, and independent power from the trailer:
- increase the potential for company to come along
- do more day trips away from basecamp and still power the fridge and camera batt/mobile chargers
- have redundant systems that use interchangeable parts
- because I geek out on self-sufficiency and being organized
This thread will be a place for me to dump all sorts of stuff van and trailer related, and not be overly verbose elsewhere
It's been one damned long year; it ain't over yet, though I'm making plans.
.
Roaddude - Traveling Photographer/Writer/Artist On the Road In North America. Gear, reviews, people, places, and culture.
roaddude.com
Last edited: