Pathfinder I
1,479
First Name

Tim
Last Name

Ash
Member #

19244
I was in Palm Spring for work and had 4 day off after and thought to do a quick trip to see the craziness that is the Salton Sea and Joshua Tree NP as I was already out that way. It was mostly sealed road but I thought I would share it anyways. Click any of the photos to enlarge them.
I started off in Palm Springs with a coffee in hand and headed south. I had heard that there was an art festival was on so that was on the list of stops as well, it's called DesertX. A group of artists do installations in Palm Springs and the surrounding areas. There were a few that were on my route, I missed a few as they were weekend only and I was doing my trip midweek.
This one was right off the side of the road in Palm Desert.
My aim was to go to TKB Bakery for lunch as I heard they made some of the best sandwiches around but when I got there the line was out the door and people said the wait was over 40min. So I skipped that, filled up with fuel and picked up firewood in Indio and headed down the 86 to an abandoned navy base.
Some of the crazy things you find in the Californian desert along the way.
The Salton Sea Naval Auxiliary Air Station was built in the early 1940's but was only active till 1946 then it became an inert nuclear weapons test range and then a parachute testing facility for the manned space flights till 1979 when it was just left for the salt to rot everything away. There isn't must left just a few crumbling buildings and the runways have been covered over by sand drifts.
After spending a few hours exploring the base and almost getting stuck in one of the sand drifts trying to find the runway, I kept heading around the lake to Salvation mountain and Slab City. Both places are like nothing I have ever seen before. I will let the photos do the talking.
Slab city was just down the read and is a collection of people living in the desert with pretty much nothing, no power, no running water, no sewage, just a trailer or a hand built shack. They have created some crazy art from things they find.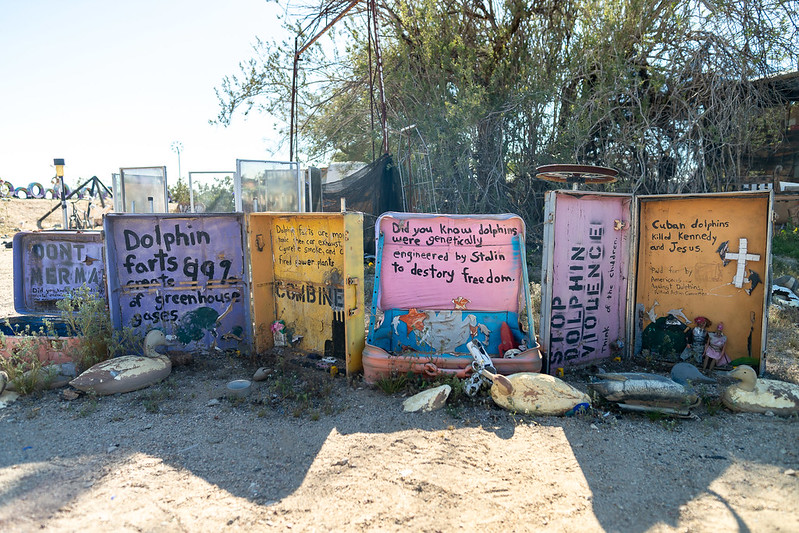 After Slab City I headed to the town of Bombay Beach. This was busy little resort town in the '50s and '60s till the lake got to salty to swim in and then the was just left but a few people decided to keep living there. There is tons of old abandoned houses and some have been made into art houses, the whole town left like it was out of a Mad Max movie. If you play Grand Theft Auto 5 this is the town that the character Trevor lives in is based off.
This was another installation for DesertX near the North Shore Beach and Yacht Club, Which is a new, modern building that is complexly out of place with everything around it. There also is the International Banana Museum but it was closed for renovations.
The water of the sea looks like ice because of the pollution and salt content.
Up on the hill behind the yacht club and town of Mortmar was another DesertX installation, stairs to nowhere......
That night I headed up Painted Canyon road to try and find a nice secluded little camp spot. Painted Canyon road is an easy dirt road, just a little wash boardy, with a slot style canyon was some colourful walls. I found a nice spot away from other people camping in the wash and made tacos for dinner. Was a nice cool, quiet, starry night.
The next morning woke with the sun and went to do the short Painted canyon hike. I was an idiot and left my camera on over night so the battery was dead and so was the spare(great planning on my part not checking the spare was charged) so I left them charing in the car and did the hike. If you are in the area I highly recommend it.
After the hike I headed to the south entrance of Joshua Tree NP as Berdoo Canyon Rd was closed because o the heavy rains earlier in the year. I had totally forgot about the super bloom that was happening, the entrance was crazy busy with people. I joined them to take a few photos of the flowers.
I am always very loose with my planning of trips and I hadn't booked any campsites in Joshua Tree as the last time I was there most the campsite where first come first serve, this has changed, almost all campsites now have to booked in advance and aren't walkup at all anymore, the biggest being Jumbo Rocks which is a 124 spot campsite that was walkup only and now is reservation only. The whole park was booked out. Luckily I stopped into the ranger station to find out. I booked the last site available for the next night but was going to have to head up to the BLM to the north of NP to camp.
First I did the the Lost Palms Oasis hike. This is a nice hike though the desert to the largest collection of Californian Fan Palms in JTNP. It was quite warm by the time I started but the hike wasn't too hard and the shade of the palms at the end is nice.
I decided I was going to camp around the abandoned Brooklyn and Gold Standard Mines. These are in BLM area so dispersed camping is allowed. The trip up Old Dale road was pretty easy, this is graded dirt road that is looked after pretty well. Once you turn onto Brooklyn Mind Road things start to change quickly.
I saw this little guy walking across Brooklyn Mind Road, lucky I saw him it as it just looked like a walking rock. The Desert Tortoise is endangered and very rare! I have been to Joshua tree many times and have never seen one, so the was very exciting. It was way smaller than I was expecting, shell length was only about 5-6".
Once you start heading up the hill to the mines it gets very rock, very quickly. I added a few more scrapes to the armouring underneath my car. Good clearance and low range is needed. There is an abandoned building/house in the middle of the valley between the mines that I was aiming to camp in. When I got there, no one was around but it looked like someone was living there. There was in date food and drink hidden in a small cave behind the house with tools, bags of concrete, a webber bbq and a few other household item. A fire place made out concrete and brick looked it was recently constructed and left over tin roofing was put back on but poorly secured. There was also bullet casings everywhere, so I decided camping there was not a good idea at all as I was by myself. I camped on a little plateau further up closer to one of the mine entrances.
I set up camp, made dinner and wen't to bed early as cloud cover came over just as the sun set with some strong winds.
This shaft went ALONG way down. I'm shining my 3000lm torch down there and still can't see the bottom. I will have to go back out there one day and explore the mines a bit more, as some of them you can walk quite far in.
The next morning was cold, windy and overcast. I packed up and ate breakfast as a light rain shower came though. I drove back down Brooklyn Mine Rd and Old Dale Rd back into the park and headed in to do more hiking and exploring.
Stopped off at the Clolla Cactus Gardens to see if they were flowering yet but looks like I was just too early.
I drove up to Keys View to look back over the valley.
Went up to Barker Dam and the Wall Street Mill area had lunch, did the hikes. That area was soo busy it wasn't funny. There was sooooo many kids as well, which being mid week I thought was odd. I didn't take any photos as there was just too many people.
I headed for my camp site, setup and had a little nap. That night was the super moon but it had been overcast all day, I was hoping it would clear but it didn't. Cloud cover was so thick the moon didn't peak through at all. So I just sat around the campfire and relaxed.
Next day was to just head home to Los Angles before I had to go back to work the next day so I rose late, had breakfast and had an uneventful trip back.
One last photo of a Joshua tree.
Last edited: