Influencer II
4,521
First Name

Raul
Last Name

Banuelos
Member #

2957
My Friday morning started out how most of my trips start - a little nervous and excited at the same time. It doesn't matter if it's somewhere new or somewhere I have visited many times. After going through my gear for the 100th time I started to throw everything into the truck. Always wondering if I'm forgetting something. I tend to over pack but have been getting a lot better at slimming things down. It doesn't help that the Overland F150 can handle pretty much anything I put in the bed so weight is never really an issue.
On this particular trip my oldest daughter, Jasmine chose to come with me. I'm not sure if she really wanted to spend a weekend with her super cool dad or she just wanted a day off of school haha. At about 0700 I had all the gear loaded in the truck so I went into the house to go wake her up. To my surprise she was already up and ready to go.
At around 0900 we headed up to one of our local Starbucks to energize our morning but to also meet up with my buddy Kevin (red Jeep) who would be caravanning with us up to Monache Meadows. Once everyone had their drinks in hand we sync'd up our CB radios and headed out.
Fortunately for us there wasn't a whole lot of traffic and we started making pretty good time.
The Monache Meadows trial head is approx. 3.5-4 hours away from us here in Ventura County. One of the things I love the most about going on trips is the drive to our destination. The drive to Monache is a beautiful one. One of my favorites is passing through Red Rock which you can camp at if you so desire.
2 hours into the drive you will reach one of the last gas stations located in Pearsonville just before heading up. You will want to fill up and grab any snacks.
Fair warning: during the summer days it gets very hot. When we stopped it was a blistering 115 degrees. We stopped to wait for Kevin's friend Jake and his son that would be joining us to Monache Meadows. It is always fun to see the type of overland vehicles you find at a gas station in the middle of nowhere... We saw a few with RTT and one jeep with an Ursa Minor top that was heading to the bishop/ mammoth area. After Jake arrived we fueled up and headed up the mountain.
The road headed up to Monache Meadows from Hwy 395 is very steep for a good 35 minutes. After the initial steep ascend it flattens out to some beautiful valleys with cabins and trees....
From the looks of the clouds and the wet road it had probably just rained which allowed us to drop down our windows and enjoy the cool 75 degree air. By the time we reached the Black Bear Ranger station it was a nice 65 degrees... We always stop by the ranger station before we head inland to not only get our Fire pass (which you need for propane stoves) but to also introduce ourselves and let them know where we are headed.
With no cell reception it is always good for the local rangers to know who is where in case of an emergency.
After about another 25 min drive up the mountain you will reach the turnoff that leads you to the Monache Meadows entrance. The trail is fairly easy with only a few sections actually requiring 4wd. We were lucky to get there right after the rain storm that rolled through which kept the dust down and allowed us to have our windows open. Now if you own a fullsize rig like myself the trails can get pretty tight not to mention some of the low hanging branches from the trees.
luckily I did not add any new stripping on the side of my rig but did end up rubbing some branches with my RTT. After the initial "offroad" section going down you will reach a small bridge that will take you to some open valleys. Slow down and enjoy the views...
The trail will take about 1.5 hours before you reach the Monache Meadows camp grounds. Once you reach the camp grounds continue down and go across the Kern River. We were lucky enough to get the campsite all the way at the end, a mere 15ft away from the Kern river. After all 3 vehicles were situated in their parking spots for the weekend we started to set up camp. With the help of my daughter I was able to set up our CVT MT Rainer Summit Series tent in a flash.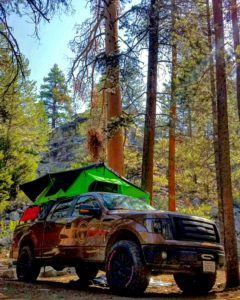 This was going to be her first time in the new tent. Nothing left to do but to grab a beer and relax but before I did I made sure to send my wife a text letting her know we were ok with our new Delorme In Reach (review on this to follow). The rest of the evening was uneventful so after some dinner and some chatting around our lantern campfire we headed up to bed.
Not sure what it is about camping but it I generally never sleep in. I was up at 0600 just in time to see the sun starting to peek through the horizon. As I laced up my boots the cool crisp air reminded me to grab my flannel. After I made my coffee I strolled around down to the river with my chair and just sat and listened to the running water, birds chirping and the wind through the trees.
It is very hard to put into words what this actually sounds and feels like but its breathtaking. A short while later everyone started to get up and get breakfast ready. Well everyone but my daughter that probably could have slept until noon.
With everyone's belly's full from breakfast we decided to go on a small hike down the river to see how many more campers there where. To our surprise other than 2 more campers at the other end of the camp sites we had the place to ourselves. We hung around our camp the rest of the morning all the way through lunch. After Jasmines nap we went on a longer hike up the mountain to do some slight bouldering. I'm not one for heights but the views were amazing.
Unlike Friday, the temperature was a nice 75 degrees with mostly sunny skies. The few clouds we did have made for great pictures. We were out for a good hour and half before we decided to go back to camp.
It was my turn to cook dinner so I busted out the
Tembo Tusk Skottle
to grill up some Carne Asada tacos.
My kitchen setup has changed a lot throughout the many years we have been camping. I have found the Skottle to be one of the best overall cooking/ storage setups around. After everyone was fed the grown ups indulged in some adult beverages while hanging around our lantern fire. Being that this was going to be our last night we stayed up longer than we normally do but in the end we prob were still in bed before midnight.
Our last morning.....
Its always sad to wake up on the last day. I was up pretty early as usual going through my normal routine. After everyone was up and fed we started packing up. We broke camp in record time and was ready to head back to civilization by 0900. The ride back to the main road was very dusty unlike the day we came in. For the most part it was pretty easy with only a couple of spots that required 4wd because of some loose dirt/rock on a steep incline. Once we arrived to the main entrance we parked all three vehicles for our traditional Picture.
In the end it was 3 days, 2 nights and a total of 560 miles round trip. Fun times was had by all who attended. For me.... Camping trips are always about making memories with my kids than the actual trip. The highlight of the weekend for me was hiking with my oldest daughter Jasmine. Spending alone time uninterrupted by electronics or the day to day grind will always live in my heart......
Once again......Monache Meadows never disappoints.