Rank VII
Staff member
Founder 500
Member
Supporter

Influencer II
5,236
First Name

Michael
Last Name

Murguia
Member #

0000
Ham Callsign

KM6YSL
When you become a badge-holding Overland Bound Member, you get access to the
Map of OB Members
. This allows you to see what other Overland Bound members are in your area!
Colors indicate the member status:
1. Platinum - Founder 500
2. Gold - OB Member
3. Bright Yellow - Benefactor
4. Green - Moderator
5. Black - Forum user, not member
There are a few steps to gaining access:
You MUST be an OB Member (badge holder) and have your forum account upgraded to "Member" (you will have a gold banner in your forum profile card that says "Member".
If you are not a member with an emblem, Go here: OB Member, then contact us to upgrade your forum account.
You can now access the Member Map!
In your user drop down menu, edit "Personal Details".
​
Edit "Map Location" - This is your location on the member map.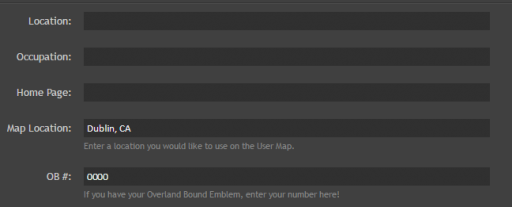 ​
Also edit "Host and "Helper" to indicate if you are available for members to stay, ior call you for assistance!
PLEASE NOTE: The Member Map updates once a day at Midnight Pacific time. When you add yourself or make any changes to your location, please wait until after that time to see your changes.
Last edited by a moderator: