Advocate II
Badge 1354
$500 to save a spotless xj with a blown motor from scrap. To a locked up adventure vehicle. Thats survived 4feet of snow and 110 degree weather and never been stuck.
The day i bought it. Bone stock 170k 4.0 aw4 np231
Fond a 97 block online for $100. Brand new 0331 tupy head $400 Rebuild kit online $200. 6hr swap and away we went.
Suspension was shot. So a 4.5 lift went on
.
And my first adventure with it that resulted in a fine for being 10feet off a paved road. That was cover in tore tracks from other vehicles. Thanks pa...
.
Then came the tires. 33x12.5r15 on 10 wide 3.75 backspace cragers.
. The km2's gave a wicked traction differents. But open diffs are still a woe. And the lack of gearing ment 9mpg highway for me. It was miserable. So 4.56 were in order. But why waist all that money on a stock now 180k 8.25. So an axls swap was in order. I got an 8.8 out of a 97 explorer $100 with only 70k on it. Pulled out the gears 4.10 and sold them for $200. Sold original axle for $300. And front gears for $100. This funding my gear swap. All i payed for was the locker and my time to replace it all.
. So now im geard. Locked. And rolling at 18mpg highway. But no spare or place to keep it. 21 yo. Have my own place and not and over abundance of money meant time to make my own carrier. $50 metal. And a long night after work.
.
Wanted to someday tow stuff and needed a good sturdy place to mount the tire swing. So i made a hitch.
. Then made a front one for cooler rack for beach trips.
.
Bigger tires. Lockers. Lift. All this ment harder trails. And more exploring. The need for rock sliders was present. So. Made some rock sliders.
.
I got bored. So doorless mod happend.
Then winter hit.
. By the end of the first weekend i was up to 25 recoveries of idiots out trying to drive through feet of snow. Gas take and transfer case skids were the repurposed out of a grand cherokee.
Drive line vibrations led to a broken transfercase. 190k miles. I was the first person to break the paint seal on the drain plug to replace the jet black fluid when i bought it. So a used one was sourced. An sye was bought. And all new parts replaced internally.
Brand new rebuilt motor.
Brand new diffs gears, carriers and all bearings.
Brand new transfercase, driveshafts.
And front hubs. The only things left are balljoints. Transmission. And front steering which i have ordered and will be doig one tone steering upgrade next week. So thats the rig at its current standing. Im in it totally just over $3000.
Oh. And heres my very lacking. Current camping gear set up. Cooler. Colman stove and 20lbs tank adapter. Cooking supplies. One man tent, roof top tent is close to top of priorities. Ill be takig a trip and visiting my dad who has a woodshop and we'll be making an insert for 2 levels and a backstop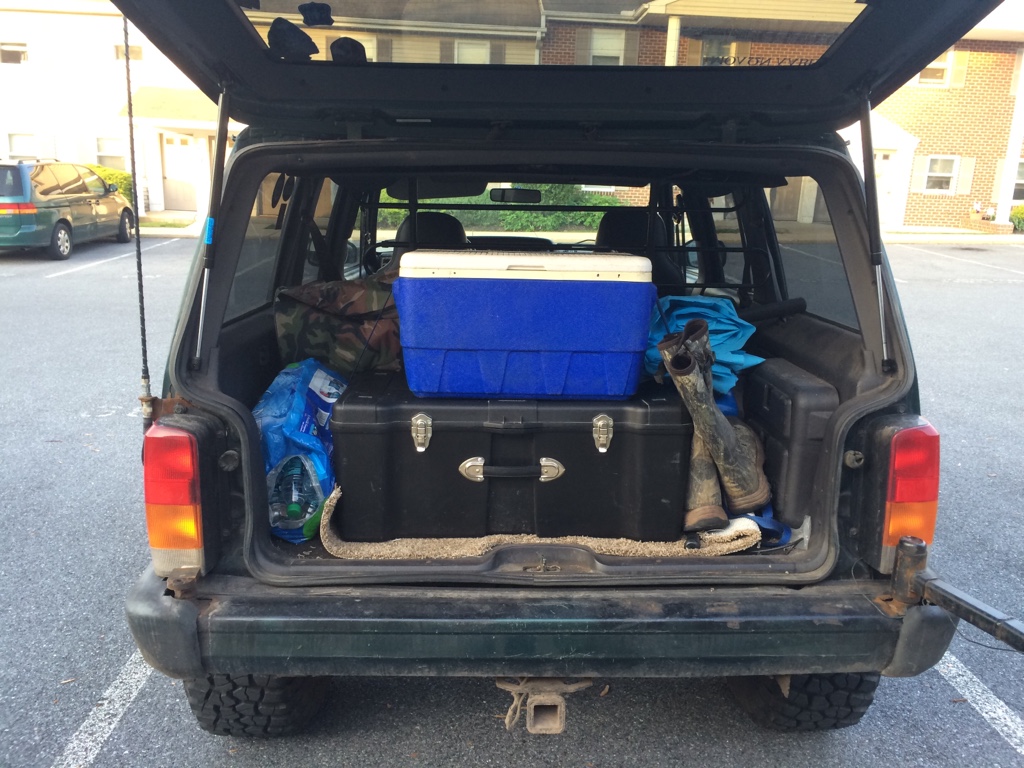 If you have any questions ill be happy to answer the best i can. I am the only hands to touch it with a wrench since i bought it. I will updating this post as i work on it.
Sent from my iPhone using
Overland Bound Talk
Last edited: