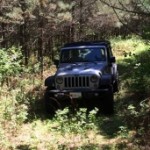 US MidWest Region Member Rep
Member

Member II
Well as some of you know I'm engaged. The wedding is September of 2017. I told my fiancee that I would plan the honeymoon and came up with the idea of going to the Black Hills. We're heading from Minnesota to the Black Hills and want to take at least a week for the honeymoon. I've been looking at some past trips from others out that way and started thinking maybe we could make it into Wyoming as well.

We're planning on staying in a tent, but I've also got to look into what the typical weather is like out that way at that time of year. We would like to do some exploring around the area as well (it's overlanding for a reason right?) Granted we don't want to spend the whole time in the Jeep either.

Right now I've got it laid out where we'll leave Minnesota and head West towards the Black Hills. We'll stop at Wall Drug (because you have to right?) and head down towards the Badlands. We could probably spend a night or two there and then head to the Black Hills.

What do you think? Any help in planning would be greatly appreciated.