Advocate I
2,268
First Name

TJ
Last Name

Adams
Member #

20043
Historically, I always camped from my pickup back before we called it Overlanding. I've also done a lot of trailer/RV camping, and still have an RV. In the search for simplicity, I got more into Jeeps the last few years, and managed to over-complicate those too. I went from throwing a tent out of my WJ, to towing an expedition trailer with the WJ, to towing the expedition trailer with a WK2 Trailhawk 5.7 I picked up specifically, and only for that task. Now, don't get me wrong, I absolutely love the little trailer and the Trailhawk is an awesome rig that does an exceptional job with the trailer. However, I have a unique life situation where I live in one city (Vegas) where I have garages/shop, but work in another (Palo Alto, CA) where I just have a room in an apartment and no garage (or even driveway).
For me, Overlanding is an escape from the Bay Area on weeks/weekends when I can't go home to Vegas. So my Overland gear is based in the Bay, not in Vegas where my garages are. As such, I found myself paying ridiculous fees for a storage unit for the trailer (it just went up to nearly 450/mo) that's ~30min away from my apartment without traffic. I also have the Trailhawk solely for this purpose, which is a little silly when my good 'ole truck was just sitting in the garage in Vegas doing nothing.
So, I'm in the process of
selling the trailer
, and will sell the Trailhawk after the trailer is gone. Replacing that combo, will be my pickup and a Fourwheel Camper Hawk. I picked up the Hawk last month, and so far have only been able to do one short shake-down trip in an RV park (which is obviously not the intended purpose, but I had some friends going and couldn't wait anymore to try it out):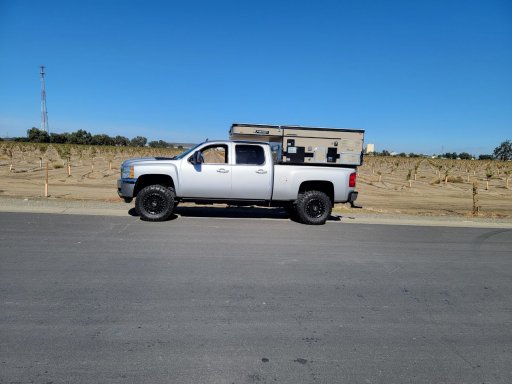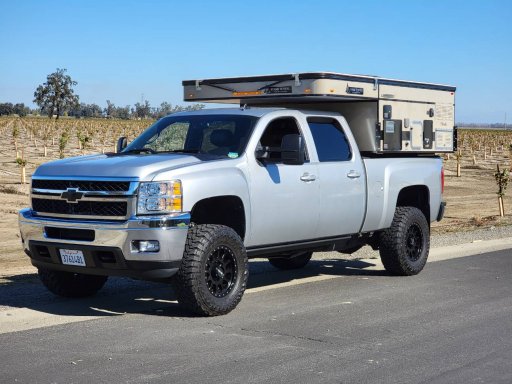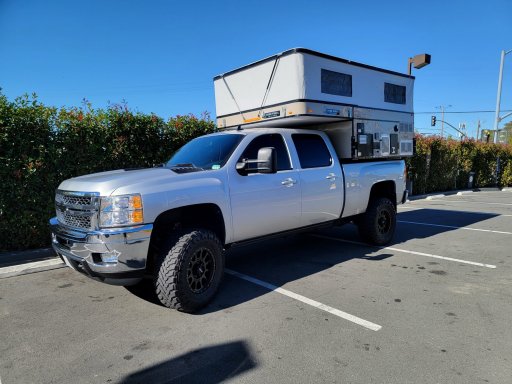 My truck is already pretty well equipped for this job, having a 60 gallon replacement fuel tank (replaces stock tank under the truck), air bags (I used to tow as much as 17k lbs 5th wheels with it), and a little lift with 35"s. Still, there a few drawbacks going this route. Perhaps surprisingly, or perhaps obvious to most, I actually have a lot
less
storage with this setup. 99.99% of my Overlanding I'm solo, so in the Trailhawk I could fold the rear seats and utilize the front seat too and have a TON of storage. In fact, I found I brought way, way, WAY too much stuff on most trips. With the truck I obviously still have the back seats and front passenger seat I can use, but it's not nearly the same amount of space as a "big" SUV. Also, I had the trailer itself. If I was so inclined I could fold the bed over and have another huge storage area. Now, to be honest I had tried to stop doing this in recent trips because a) it was annoying taking things in/out of the trailer to "make my bed" on trips where we move every day b) it lead to me just bringing too much BS. Obviously I have the camper now, but in these pop-ups storage is much more limited than you might think.
I have it pretty well figured out already, still I knew I'd miss the expanded metal box on the front of my trailer, where I stashed things like firewood, extra fuel (which shouldn't be needed now, but it's nice to carry it for others) etc. I was looking into an Aluminess rear bumper with swing outs for both a spare holder and some storage boxes. Unfortunately, while they still have them on their
website
, they actually stopped making them to focus on van-life stuff. :( So I got to looking for other options, and came across
RIGd
and ordered their "UltraSwing MegaFit" which will take care of a spare for me as well as adding a little table, and some Rotopax mounts. Like I said, I shouldn't need to bring extra fuel, so I'll use the Rotopax for water. The idea is to make a nice hand-wash station so I don't have to climb into the FWC every time I just want to wash my hands after nature calls, or I'm cooking outside, or whatever... basically picture this setup: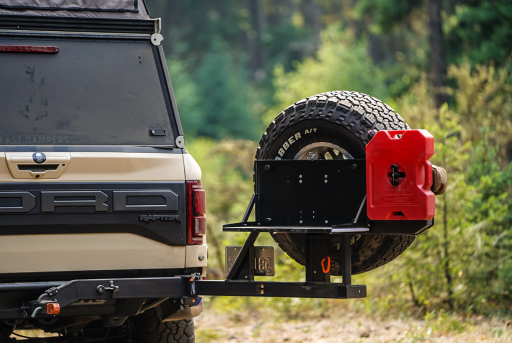 But instead of fuel, it'll be a water Rotopax mounted upside down with one of these on it: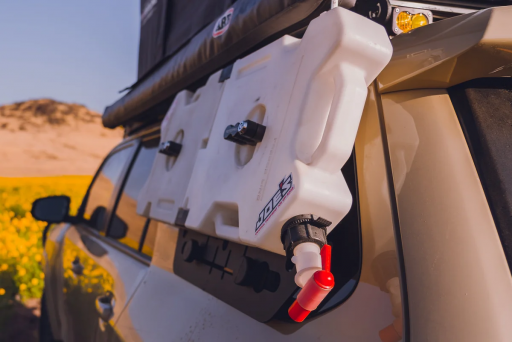 I also found Mule Expedition Outfitters and got their FWC mount for an Aluminess shovel/axe: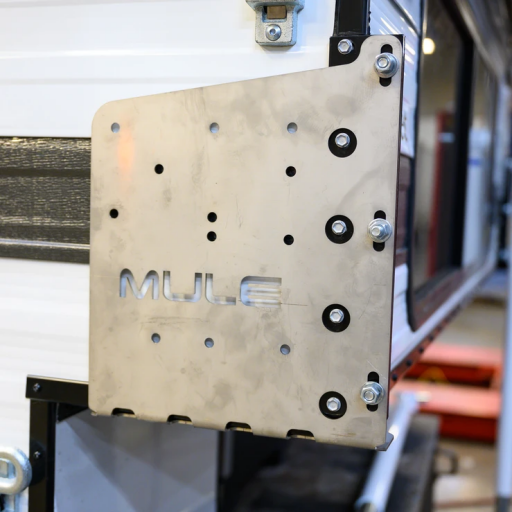 So, that'll take care of *most* of my dirty/outdoors stuff, other than my chainsaw and my Powertank. I'm going to have to get everything on the truck to figure out the chainsaw mount, but I hope to adapt something like one of these: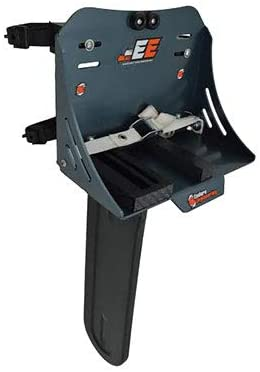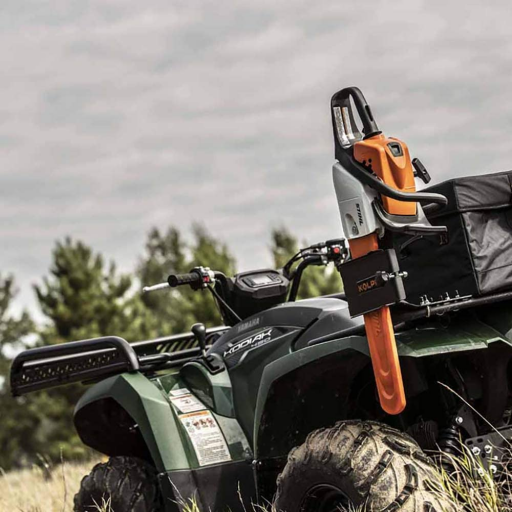 Onto either the FWC directly, or the RIGd tire carrier. Since I've gone to an electric saw, I won't have to worry about fuel for it. As for the Powertank, I already have a nice bag for it, so it might just be something that gets chucked in the back seat. I'm going to pare-down and tighten-up my toolkit, and hopefully reduce it to 1-2 tool rolls instead of the 2-3 bags plus the big plastic kit I'm using now and those along w/ my recovery kit should fit on the rear floorboards.
As for the truck itself, it's been meticulously maintained over the years (I bought it new in Oct '10) with all Amsoil and over-the-top frequency. I have a lift-pump with increased filtration and I replaced the dreaded CP4.2 around 100k miles (130k miles now) as preventative maintenance and replaced lots of other wear items at the same time (water pump, both t-stats, radiator was replaced the year before, every hose/belt, etc. etc. etc.). To take the truck to the next level though, I am setup with
WFO
to drop the truck off Feb 7th for a Solid Axle Swap (SAS). WFO has an
extremely nice setup for trucks like my 2011
that utilizes radius arms and coil overs, instead of going leaf-spring in the front. It will utilize a '05+ Super Duty front Dana 60, which will be entirely rebuilt by WFO to include a free-spin kit, an ARB locker, and either 4.56s. The rear will also get rebuilt to match the gear ratio, but also just as a precautionary measure at 130k miles, with lots of heavy towing. I'm undecided yet on the rear traction device. Being the AAM 11.5" there are several options out there, from open, limited slip and both Truetrac Posi or Detroit Lockers to just doing an ARB in the rear as well.
I'm definitely open to advice and input on the rear locker option. Part of me wants the Detroit for proven reliability and simplicity. However, I've heard Detroits create a loose, wild ride in snow since they lock up under power at all times. I know I want more than just a limited slip, but I'm not sure the Truetrac is "enough" for me. So, it'll probably be an ARB unless there are compelling reasons not to go that route.
As for wheels/tires, I'll be going "down" to a 17" wheel. I have 18"s now, and in theory could have run 17"s but it gets really tight on the '11+ GM front brakes. The Ford front brakes I'll use with the Ford axle are slightly smaller (but not enough smaller to be a worry, plus we'll run top-notch pads/rotors) and are a better fit with 17"s so I'll take advantage of that opportunity for more sidewall. I have to buy new wheels anyway, since I'm going to 8x170mm (from my 8x180mm) lug pattern with the free-spin kit on the Ford axle and re-drilling my rear axle flanges (plenty of meat for that, WFO has done it plenty). As for tires, I'm "just" going 37x12.5-17" from my current 35x12.5-18". I know it might seem like a lot of cost and effort just to get a 2" bigger tire (only creating 1" more clearance at the rear pumpkin, and actually losing clearance up front as compared to the IFS) but it's obviously about more than just clearance. To be clear: I'm not building a rock-crawler here. I just want to improve the capability of my rig and I've always dreamed of SAS'in it.
As a final mod, I'm going to figure out a front winch solution. Of course, there a zillion front bumper options for my truck, but TBH I don't love any of them. I'd much prefer a sleek, hidden winch mount setup - but none are made for my truck. There's a lot going on in the front of my truck with the giant cooling stack including the intercooler, but I've seen some folks DIY it so I'm sure we can get something figured out.
Well, that's about it for now, as you probably can tell, I'm pretty excited...
-TJ
Last edited: