Pathfinder I
Here's an easy way to mount a whip for your rig.
Fly your colors proudly!
I had these air tool fittings in the junk drawer of my toolbox. I mounted the male fitting to the front bumper, there is another fitting under the bumper, since I couldn't find a nut with 1/4" npt threads. Locktite and some washers, and it is solid.
The female fitting has a small adapter that I had to drill out to 1/4 inch so the whip would fit. Then epoxy the whip into the fitting, and you are set.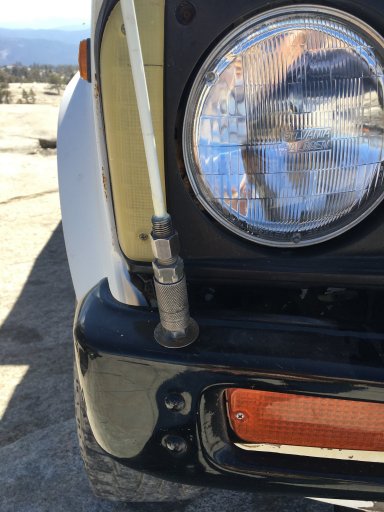 No more struggling with wrenches when you hit the trail, just pop the whip on, and pop it off when you get back to the road. This setup was solid for 2 plus days at the Overland Bound Rally Sierras. I left it on going to and from the trail, with a top speed of around 50mph.