Advocate II
1993 FZJ80 White As It Sits Now.
Current MODS & Gear:
ARB AIR Lockers F/R
2x ARB HP Compressor Front & On Board Air Rear
Nitro 4.88 R&P Gears
AVM Hubs & Slee Part Time Kit
Factory Locker, Compressor & CLD Switches
Factory Hand Throttle
3.5" Autocraft Slinky Long Travel Coils
Autocraft Icon 2.0 12" Shocks
ARB Steering Stabilizer
Slee Adjustable Rear Upper Control Arms
Slee Front Panhard Bar
Slee Rear Panhard Bar
Slee Drag Link
Slee Tie Rod
Slee Caster plates
Slee Front Swaybar Drop
Slee Rear Bumpstop Extesion
60 Series rear Bumpstops
Redline Land Cruisers Rear Swaybar Drop
Redline Land Cruisers 8 Degree Front Lower Arm Bushings
Custom Front DC Drive Shaft OEM Parts
Custom Rear DC Drive Shaft OEM Parts
Slee Short Bus Front Bumper
ComeUp Winch Seal Gen2 9.5RS
Trail Tailor Tow Points
4x4Labs Rear Bumper
4x4Labs Rear Tire Carrier w/ Hi-Lift
4x4Labs Lader & 3 Jerry Carrier
5x 16x8.5 Level8 Tracker Pro Wheels
5x 315/75R16 BFG KO2 Tires
Slee 7pc Stainless Brake Lines
DBA T3 Front Rotors w/ OEM Pads
Powerstop Truck Extreme Rear Rotors & Pads
2x Oddessy 34 pc-1500 Battery
Off Grid Engineering Dual Battery System w/ Rear Power Station
Slee Dual Battery Tray & Washer Relocation
ARB Diff Breather Kit
Hi-lift Extreme
CVT MT Shasta Extended w/ Annex RTT
Indel-B 51L Freezer / Fridge
Ipad Mini (Navigation) w/ Mount
Kenwood DDX774BH Head Unit
Icom 5100
Front & Rear Fire Extinguishers
Hella Supertones Horns
Coming MODS & Gear
Speakers
Longerange Automotive Aux Fuel Tank 25gal
Roof Rack (Gobi)
Mini CB
Light Force Lights
Camp Lights
Custom Drawer System
Engine Refresh (Robbie Built High Compresion Swap in October)
Rock Sliders
Little background on this Land Cruiser. I have been searching for a very clean 80 series Land Cruiser for about two years. They have been my dream car since they first came out after I was out of High School. Really never thought I would own one. I found this 1993 with 224,810 miles in Sacramento listed on Ebay 3/18/17. It was everything I was looking for Color and Spec. It was a one owner with full history and all the document to back it. Seller babied it and it was garaged all its life. Pristine original paint with just a few front rock chips showed this to be true. Had seller send me 30 mins of video of every inch of the truck. He told me it was leaking oil but not burning it. He had it checked and was told it was the main seal but very slow leak and should be fine just check the oil every tank of gas. Only MOD I could see was a OME 2.5 Med lift with Slee drag link and tie rod. He put in brand new 297/70R16 BFG KO2 a week before listing it. He also said he had the birfs rebuilt with a Slee full kit a year before when he had the lift installed. Could tell the guy cared because the battery died before I got there and he put in a Interstate not some cheep piece of crap he could have. Made a deal at $9500 and bought a ticket to fly out to California on 4/7/17. Longest two weeks ever!
Ebay PIC's
I little info about me. I was raised here in Colorado. I have always been into anything outdoors hunting, fishing and camping since I was little. I started working at a local hunting & fishing mom and pop when I was 8 years old and I am now employed by JAX Outdoor Gear in Broomfield as their Hunt, Fish & Military Manager. I really got the overlanding bug fifteen years ago and it has become my Wife and I's favorite pass time. We started with a 04 Taco and have grown since then. We know have two built Tacos and use them as our daily drivers. The Land Cruiser will now be our main rig and stay packed and ready to go. It will live in our garage and be used only for overlanding. This should cut down on some of the were and tear.
Some PICs of our current rigs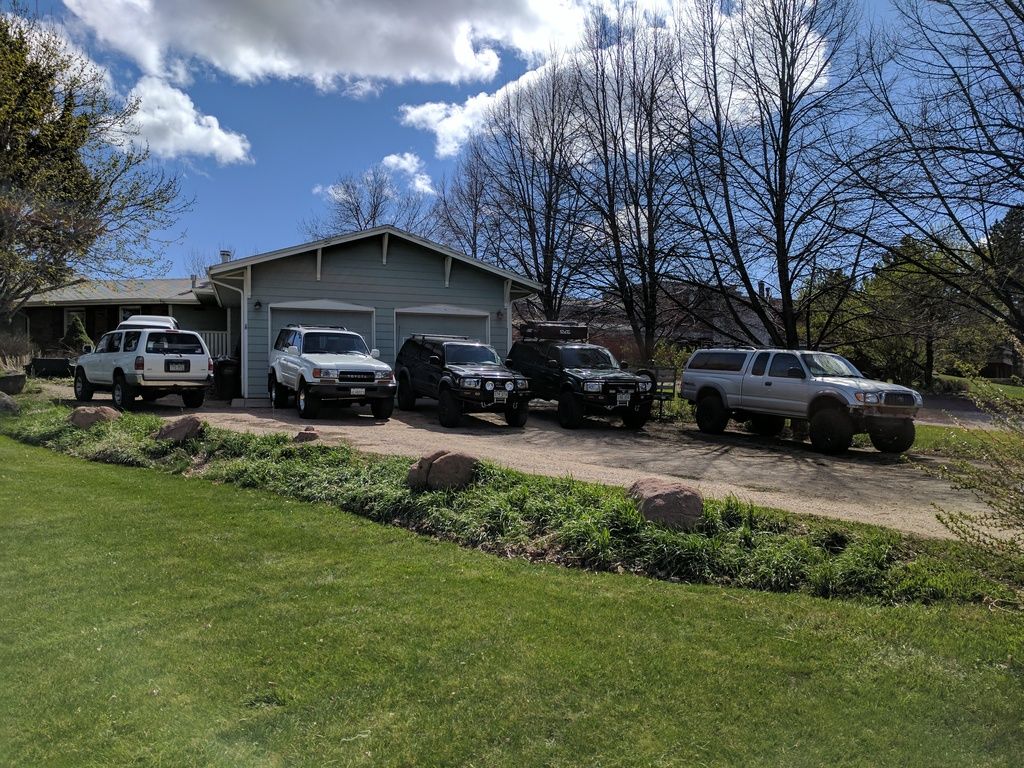 Last edited: