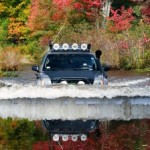 Rank III
Founder 500
Member

Influencer II
Year:
2005
Make:
Nissan
Model:
Xterra
Trim:
S
MODS
Exterior
Melt Mod
Bedlined "S" wheels
Bedlined hood
Bedlined Grille
Shrockworks front bumper (center hoop only)
Shrockworks rear bumper w/ tire swing
Hella 700FFs mounted on Shrock
Gobi Ranger Full Replacement Roof Rack
Four Hella 500FF's
Raingler REXN Net
Hella FF75 knock off back up lights ("Pilot" brand)
Safari Raised Air Intake aka Snorkel
Ironman 55" Awning
Engo EPF10000S 10,000lb Winch with synthetic line
Factor 55 Safety thimble
1.5" wheel spacers.
Exterior Protection:
Factory OR skids doubled up (better than nothing)
AJ's Super Square Sliders with RockyMtnX brackets
Blue Torch Fab C200k dif cover in John Deere green.
Tires
Definity Dakota Mud Terrains 285/75/16
Suspension:
PRG Adjustable Shackles
Bilsteins 5125's in the rear
Radflo 2.5" Coilovers w/ 600lb spring
PRG Fixed Delrin UCA's
PRG 1/2" Spacers
Old Man Emu Dakar Leaf packs with two HD Add a leafs.
Drivetrain
C200k with 3.69 Gears
R180A with 3.69 Gears
Interior:
Contico SUV storage box w/ custom L brackets (to lock the box down into the track rails in the cargo area)
Raingler RN90 Upper Half Net
Raingler RIXN Large Ceiling net.
"Tomahawk Mod"
Performance

Drilled and slotted rotors and ceramic pads
Doug Thorley Long Tube Headers
Doug Thorely Cat back exhaust
K&N Drop in filter
Comms and Navigation
Cobra DX III CB Radio
4ft Firestik II Antenna
Firestik Stainless HD antenna spring (SS-3H)
Firestik Stainless door jamb mount (SS-204A)
Firestik 18ft coaxial cable
Garmin Nuvi
Other Misc Mods:
Diff breather extension
PRG Camber bolts
PRG Shim kit
Blue Sea 5026 12 circuit fuse block
Silverstar Ultra 9007's
Optima Yellow Top
Removed:
Rear Sway Bar
Front Sway bar
Mud flaps
Step Rails
My Sanity
PHOTOS
The day I took delivery
First trip to Moosehead Lake in Maine in fall of 2009
First version of lift (front AC Coils) with lift and tires install
ed
First time wheeling it
Installing 2.5 Radlfo's, PRG UCA's, Drilled and slotted rotors, ceramic pads, 3* shims, and camber bolts (Fathers 78 Trans Am in foreground)
2April10 After 2.5 Radflo and UCA install
Contico "SUV" bin mounted in cargo area
Summer of 2010
Fall 2010
After Shrockworks bumper install in Spring of 2011
Hella's and Xoskel installed (F15 taking off in background)