Influencer II
3,921
First Name

Scott
Last Name

Heiser
Member #

2486
Some of you may remember me, from back in the day.. OB member 2486. I had an 04 Dodge ram 2500, and lived in Southern California. A lot has changed, and we moved from So Cal to the Kansas City, MO.
My wife and I are avid campers/preppers, and as such had a 2004 Dodge ram 2500 quad cab long bed diesel that was setup for overlanding/bugout purposes.
Unfortunately, that truck met its demise in an unfortunate accident.
When it came time to start looking at new trucks, my needs had changed quite a bit since buying my Dodge. Rather than wanting a ton of bed space at the expense of cab space, I now need the opposite for my wife and 3 kids, so I needed a large cab, and bed space was not as important.
Enter my 2013 F150 XLT Supercrew 5.5' bed with a 3.5 Ecoboost engine.
It was purchased a small mom and pop used car dealer, for what I felt was a decent price, given the current truck market. This truck will be used as my toy, bugout vehicle, and will also tow our 4000 lb travel trailer for most of our camping adventures.
Here she is in all of her glory, the day I took her home. My kids have named it Mr. Igloo...
First order of business was to ditch the air dam, drill a weep hole in the intercooler, and remove the bug shield.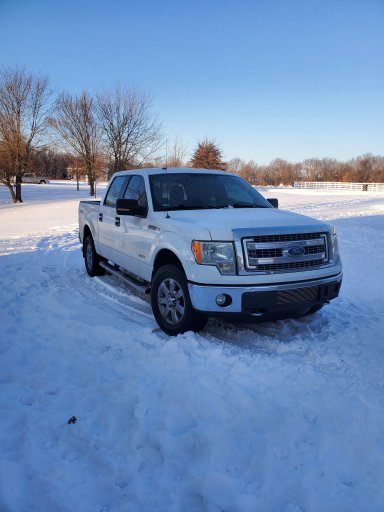 Next up was to remove those side steps that seemed to do nothing but get in my way...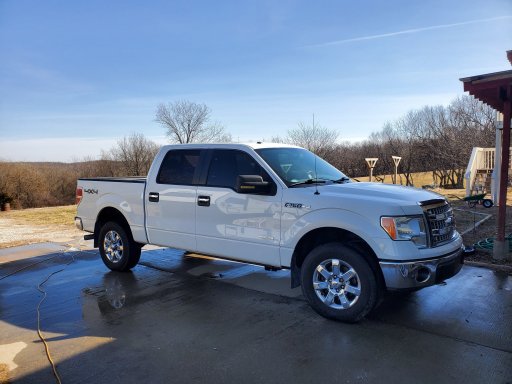 That is where I am at so far. I currently have some accessories (roof top tent, etc) from my old truck that will be going onto this truck, once I get my new bed rack ordered from Leitner Designs. Below is a list of mods planned, in no particular order...
Leitner Designs active cargo system bed rack (on order)
CVT Mt. Denali rooftop tent
Bilstein 5100 leveling struts and rear shocks
New wheels (undecided on brand or color)
35" tires (likely Falken Wildpeak ATs or MTs)
Custom front and rear bumpers with front winch if possible.
Led cubes to replace factory fog lights
Led interior lights throughout
Fx4 headlights and tail lights
Factory tow mirrors
Some sort of rocker panel protection
I'm off to a slow start currently, but I plan to use this thread as a place to document my build. First order of business is to do baseline maintenance on it, including new spark plugs and coils, then move on to mods. I will add to my list of mods as I think of them.
Last edited: