Traveler I
Yeti vs Pelican cooler quick overview
Owning both a Pelican and a Yeti cooler I have been asked many times which is better or which I prefer. So I decided to write a review. Just a not this is not comparing apples to apples its more like apples to pears as the Yeti is a 65L cooler and the Pelican is a 300t (30L). However I can break down the differences and what I like and don't like about each.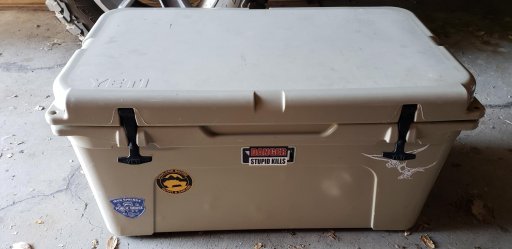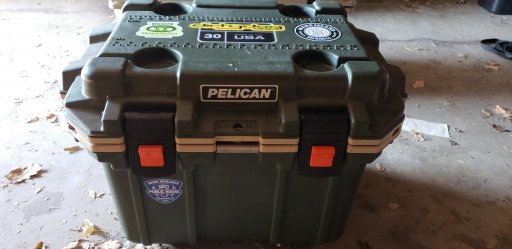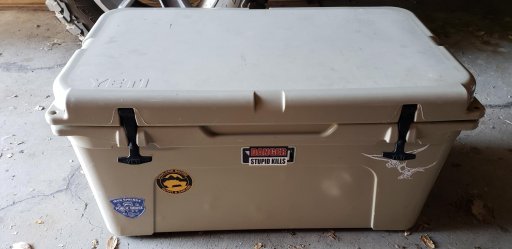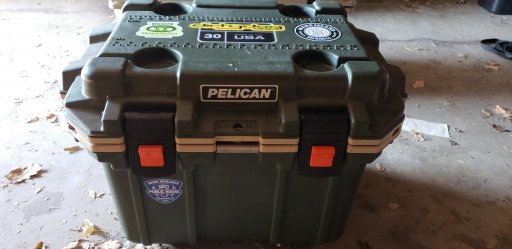 Yeti:
I have owned the Yeti 65 for about 4 or 5 years. It has been no a fair number of adventures and has severed me well. At its widest points it is 30 5/8"L x 17 ¼"w x 16"H. Yeti says it can hold 42 cans of beer with a 2:1 ice to can ratio. (I have not tested this)
Things I like about it:
Good drainage,
Holds ice for 3 plus days with regular usage. (Up to 4 with regular usage depending on how much ice you start with and how much food/drink you have)
Double handles. The rope ones are nice for carrying it with a 2nd person and the built in hard handles are great for solo carrying.
It truly is a no slip design with its feet.
Built in tie down points
Dry food basket. (Okay I lost mine a long time ago but it was a handy thing while I had it.)
Things I don't like about it:
The locking handles. The rubber T latches are sometimes a pain to use.
Price
Pelican
: I have a pelican 300T it the website says 31.18 liters. I have had this cooler a little over 18 months and it has severed me well on the trips I have taken it on. At its widest points its 25 1/3"L x 19"W x 18 ½"H. Pelican says it can hold 22 cans of beer with a 2:1 ice ratio.
Things I like about it:
Holds Ice 4+ days with regular usage. (Pelican says 6 days but I have a feeling they do a higher ice to contents ration then I do, and open it less.)
The Latches. I love the size and the ease of use with these latches.
Built it bottle opener
Molded can holders
Built in 4 point tie down
Handles are nice
Lifetime warranty* (it does not cover all parts.)
Things I don't like about it:
The size of the lid. (the lid has a large over hang on the front and back that adds about 2+" to the width of the cooler. I found this leads to wasted space in my jeep and Bronco.
Price
Head to Head:
Both a great coolers, I really wish the Pelican coolers lid did not have that large over hang. I do notice it getting in the way when packing. But the latches are easier to use meaning when in camp they are more likely to be used which helps keep the ice longer. Both have amazing no slip feet however the Yeti's seem to have a slightly better grip. I have noticed the Pelicans are a little less expensive but they are still far from cheap. (Yeti 35 $250 Pelican 300T $250, Yeti 65 $350 Pelican $350, Yeti 160 $680 Pelican 150Q $630) However at this price range one could argue that the $25 should not factor into the one you prefer. I do think the Pelican has a few more features built in. If they were of similar size the ice retention would be about the same. I know that on the larger Pelicans the way the handles are built in you can use those for tie down points as well as the built in tie down points. Depending on how much you use the cooler has as part of your built-in set I would lean a little more towards the Yeti as losing those few inches to the overhand of the Pelican cooler if annoying. However if you cooler is being used in your vehicle and also for other things out side of your vehicle such as bbq's, fishing, ect I would lean towards the Pelican.
As for which I prefer:
Well I notice myself grabbing the Pelican cooler more than the Yeti. Now some of this is because I have been doing shorter trips where it's just me and my 2 dogs, but also because I tore my left bicep back in February and I can carry the pelican loaded in my right hand with less issue then the Yeti. However I also have to say that if I was to go out and buy a new cooler tomorrow I would probably pick a Pelican over a Yeti if those where my only options. While the Yeti's are amazing coolers and where the first to market, I think that other companies have created coolers that are just as good or even better than the Yeti now for the same price and often a little less.