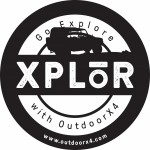 Rank V
Founder 500
Member
Supporter

Advocate III
OutdoorX4 is proud to announce Jeepers International Magazine has officially launched and charter subscriptions are NOW available!
Jeepers International was created for the Jeep® enthusiast who craves an adventurous lifestyle. The magazine will focus on Jeep® vehicles and related activities with stories from all over the world, including tech tips, product reviews, vehicle spotlights, historical perspectives and adventure pieces.
This will be the most comprehensive Jeep® publication available, offered quarterly and by subscription ONLY in both print and digital. You can now pick-up a charter subscription by visiting
www.jeepersinternational.com
with subscriptions starting at $20 per year. Also, be sure to use coupon code
jidecal
to receive a limited edition Jeepers International round decal with your charter subscription. Issue 1 drops later this Fall!
And if you're now already familiar with OutdoorX4 Magazine, OutdoorX4 is a preeminent overland adventure lifestyle print magazine now in its fifth year. Overland Bound members get a 10% discount on all subscriptions by using coupon code
overlandbound
on our website at
www.outdoorx4.com
so sign up today!