Advocate III
SOLD 8/24/18
This is a nearly new GearsHunter cargo net. We bought it to lash down all our odd and sundry gear on the Jeep roof rack (GOBI) but no longer need it since we now use a trailer. We used it once in good weather this summer.
$78 shipped CONUS - PP OK (non F&F OK as well). Will go USPS PRIO MAIL FLAT RATE Med Box.
7 ft X 9 ft (84" x 108") cargo net.
2" wide heavy duty webbing straps
2.5" diameter metal ring on each corner and on each side (total of 8)
The opening of each inner square is approx 11"
Specifications:
Quantity: One cargo net as shown
Color: Black
Material: Heavy duty polypropylene webbing straps stitched with premium quality thread for maximum strength
Breaking Strength: 11,000 lbs / 5T (5 Tons)
Work Load Limit (W.L.L): 2,200 lbs / 1T (1 Ton)
Aircraft, Army, Military Vehicle, Expedition, Camping, Overlanding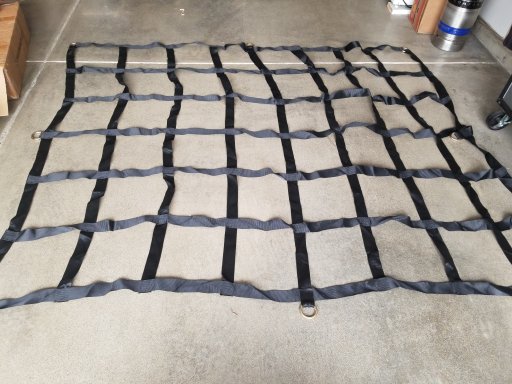 Last edited: