Contributor II
271
First Name

Melinda
Last Name

Killian
Member #

21740
11 days, 10 nights. 2911 miles driven (though I think I'm short a few after forgetting to start GAIA one morning) from western WA down to DVNP and back again. It was the first big trip since fully rebuilding and upgrading the suspension on the truck, along with tons of other creature comforts we've recently added. She performed better then we even expected. Not a single issue to deal with and only one minor dink to the running board that removed some linex after one rather large rock on Mengel Pass.
First night we boondocked SE of Mt. Shasta just off highway 89 at a no fee dispersed site along a river. The snow on the road getting in was super old crusty slushy crap that required both lockers to get ourselves up and out the next morning. Hubs wanted to "swing down" the east side of Lake Tahoe on day 2, which was also a Saturday, and that turned out to be just a stupid idea all around. Even with all the people though the lake is still very pretty, though I was too hangry to get any pictures. We set up camp on the South side of Mono Lake that night which would afford excellent alpenglow views in thing morning when the sun lit up the Sierras.
Day 3 we fueled up in Bishop then took a quick trip to see the Bristlecone Pines before finally making our way into Death Valley and a camp spot near the Eureka Dunes. That morning we made cinnamon rolls in the camp oven we picked up over Christmas. Totally silly and worth the space in our opinion!
Day 4 we set out for Titus Canyon, which was more amazing than anything we expected. TBH it was our favorite drive of the trip, that last bit with the canyon walls towering high above on both sides. It was like hiking a slot canyon, in the truck, which made me happy as I'm claustrophobic and can't do those kind of hikes anymore. From Titus we looped back north towards Teakettle Junction to search for the nights camp. The first place we tried was super full so we pulled over on a spur right off the road, thinking the big cliff beside us would block any wind that night. Too bad the wind just funneled between them instead! Happy to report the Overland Vehicle Systems 270 awning held up like a champ overnight. We did have to scramble out at midnight to secure the table and privacy tent (it was just blown over but still staked) but otherwise all was fine. I can see how those winds would get frustrating for RTT ppl real quick! Thankfully that was our only windy night of the entire trip.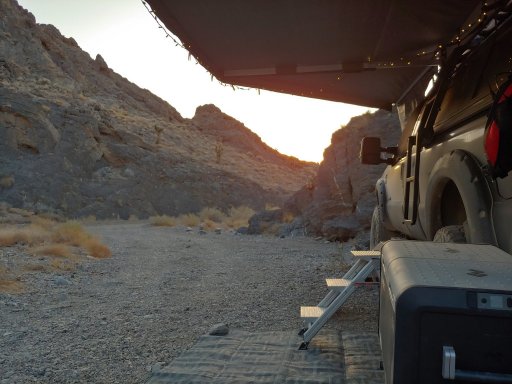 (the pic was taken before we staked the awning out!)
Day 5 we packed up early as I wanted to be over Lippencott before it got too crowded. We took our morning coffee for a walk on the playa in search of the moving rocks. It was a beautiful peaceful way to wake up the mind and body. I've wanted to see the mysterious moving rocks since I was a small child after I read about them in National Geographic Magazine. Lippencott Mine Road was pretty fun, now that its behind us, for me anyway. I know hubs loved it and would go again, in the truck, but I think I'm once and done thank you very much. You can see we don't travel light (full dometic, chains for 37s, creature comforts for 2 humans and a spoiled dog) and we're a bit heavy up top. I can honestly say I wanted to throw up after getting through the off camber turn portion of the road, that one really bad spot! We stacked rocks and laid out the traction boards twice to get through it. I still get a knot in my stomach thinking about it. But really that was it. Otherwise it was a fun twisty road with cactus and oncoming traffic. Thankfully we only encountered that at the end (early start FTW) as a line of land cruisers caused a few minutes of maneuvering and repositioning on all our parts. Kudos to the guy leading that crew! It was fun chatting with a few as they went by. As we joined up with Saline Valley Road we were buzzed by a fighter jet, which is always exciting, and even after living near bases for years I still get a kick out of it. Soon enough it was back to pavement as we zipped over to do some touristy stuff. Well we tried anyway. The line to get into the visitor center was a mile long (possibly exaggerating, but only slightly) so we refilled our water and set out for Golden Canyon. Yet another bust! It was so freaking hot (89, hot for us anyway & not with a dog in the cab) and there were too many ppl parked at the trailhead so we passed by in order to check out Artists Drive with everyone else. I was bummed as I'm a huge Star Wars fan but we can revisit it when there aren't as many ppl sometime. From the paved beauty of Artists Drive we took the west side road along the basin and turned onto Warm Springs Road. I honestly could have taken days to slowly travel that road and explore its nooks and crannies, but we wanted to get to a cabin for the night. To see the Striped Butte light up in the morning sun. Another big bust as they were all full, but thats ok. We found a great place farther down the road on a exposed hill that afforded more amazing nighttime views. And set us up for another early morning pass run.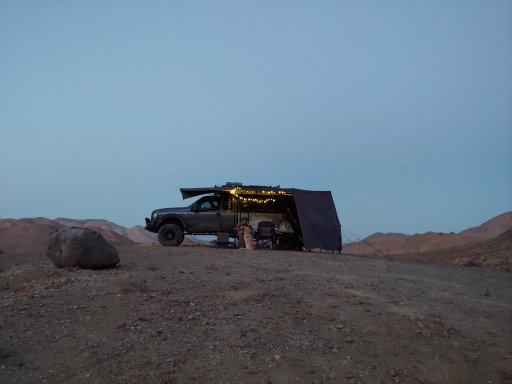 Mengel Pass was fun and we didn't see another soul until we were exiting Goler Canyon later that day. The big rock was interesting. At first look we thought for sure we'd scrape but I guided her to within an inch of the front flare. Easy Peasy. The rest was just slow tire placement. With 37s we really didn't have much to worry about. As we descended all the rocks we talked about the videos we'd watched and all the time people spent stacking rocks and picking lines. At some point I wasn't zoomed into GAIA enough and got us off track, somewhere before the Barker Ranch area I think. We ended up crawling down, then back up, a stupidly steep track that we never would have driven down in the first place. Lesson learned on that one! But the truck was a beast and carried us through it all, yet again. Goler Canyon was quite pretty and like I said we only ran into one other guy in a jeep the entire time. Also saw some beautiful big white flowers blooming I need to look up and see what they were. At first I thought it was toilet paper. With another early start to our day we exited the park and found ourselves restocking in Lone Pine and hoping to camp in the Alabama Hills for two nights. But the staggering number of people (everywhere) put us off. Hubs didn't even want to stop and I was pretty upset as it was really the one thing I was most looking forward to the entire trip. We eventually found a place, still in the rocks, far from Movie Road, and stayed one night. It was a beautiful evening with a stunning sunrise, and we cooked stuffed peppers in the oven.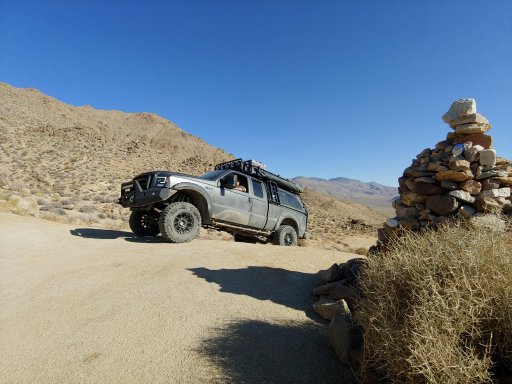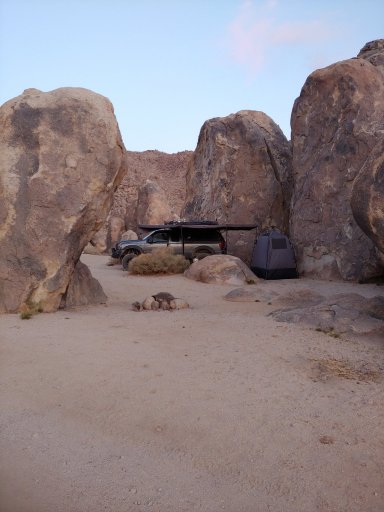 Day 7 we fled the crowds and vowed to return when its colder and people aren't on spring break. We aimed for NW Nevada and the Sheldon National Wildlife Refuge. It was fun to drive up through the Black Rock Desert area again and Pyramid Lake was more amazing in person than through any picture I had seen. After a "short cut" that took longer due to gates and winding two track we found a lovely site for the night that set us up for hot springs exploring the next day.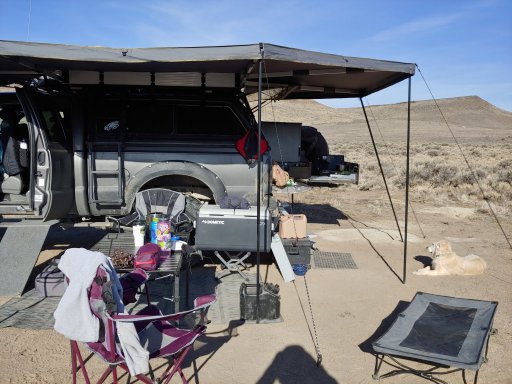 Day 8 we dipped in a hot spring river, then had milkshakes in Field Oregon before driving out onto the Alvord Desert. After some glamor shots for the truck we hauled buns northwest. Found a nice spot on some BLM land outside Burns, Oregon after hitting a local brewery. We watched wild horses, deer antelope, and heard coyotes attacking what sounded like an elk at sunset.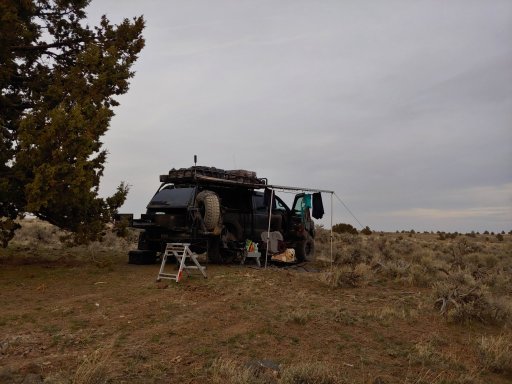 Our last day we made our way NW and found a forest road pull out with a view of Mt. Hood for the night.
The next day was Easter and we were home before noon. I realize in my writing I missed a day somehow, but its all there in pictures and I need to finish dinner! I have more pics on my IG @melisgarden and we are working on editing video to put on YouTube.