Rank VI
Member
Supporter +
Pathfinder I
Uncle Ruckus is a 1984 full size Ford Bronco i bought as a hunting/fishing/camping truck to keep the wear and tear off of Rutger, my 2012 superduty FX4.
'Ruckus , came to me with a 6 inch lift and 30 inch tires it was comical but at least it fit on the trailer.
As soon as I got home I installed a Warn winch bumper and a 9000i winch. The winch came up with a blown up vehicle in Afghanistan and the bumper came off of a junkyard k5 blazer so it doesn't line up exactly right I will have to cut and turn the ends eventually. When I cut and turn the ends to match the curvature of the truck I will also cook up some sort of a grille guard mostly so I will have somewhere to tie off my limb risers..... I have found Bumpers for this truck but they only made it for 6 years with this body style in the Bumpers are $1,100 for the front I prefer to build my things anyway this just gave me a head start. The rear bumper is a ranch hand i have had laying around.
It sat in the driveway with 6 inches of lift a winch bumper and 30 inch tires until my new to me 37x12.50x16.5 HMMWV tires showed up.
I chose to go with the BF Goodrich Baja TA there were three options the Goodyear military oz the good year Wrangler Mt and then the BF Goodrich. All of these are available at trail worthy fab.com. I think I paid 150 per tire.
I then grabbed up some pro comp D window steelies because this is a temporary wheel and tire combination until I get some more pressing matters under control and I can afford to get a more common wheel size and tires to go with them. Trying to find a 16 and a half inch 37 x 12 50 mud terrain in a pinch would not be fun... i do have one spare....
The 351 Windsor runs like a top the c6 transmission is great and does not have an overdrive which is great because overdrive does not like oversized tires but it's not so great for fuel economy...... but then again neither is a 4 barrel 750cfm carburetor either.
It has 9 inch Ford rear end in the Dana 44 twin traction beam front I do have a Dana 44 and all the trimmings from a 1979 F 150 that I'm going to use to convert the truck to a solid axle the TTB has offered no trouble at all I just do not like it. Also have another 9 inch for the rear. The axles are in the garage right now and tear down will start soon to rebuild with 4.56 gears lockers and probably some chrome moly shafts.
I will be posting some pictures of this build when I start my roof rack bumper builds and spare tire / fuel water can gate build in the next month or so.... it is a terribly slow build because I am currently remodeling my house preparing the way for the birth of my first child.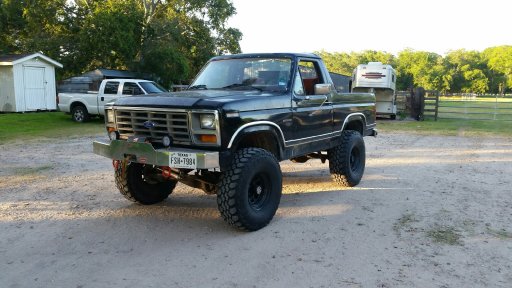 Sent from my SM-G920V using Tapatalk