Influencer II
I grew up fishing in Lake Tahoe and on General Creek with my Dad and Grandpa and have always wanted to try fly fishing. For my birthday this year I received a Whitewater fishing outfit from my parents and haven't had the time to get out and use it. I had Friday and Saturday off from work and summer classes so I decided to do a quick overnight fishing trip. I had planned to go fishing on the North Fork of the Nooksack river off Mt. Baker Highway where it looked like there were some campsites according to Google Maps.
I loaded all my gear into the truck and headed to Fred Meyers to get a fishing license and some food. With my license in hand, I walked out the doors to a gray overcast sky. I knew that it was supposed to rain during my trip but it didn't bother me and I figured I would be able to find a campsite that was well covered with trees. I hit the road and headed north on I-5 and got off onto Mt Baker Highway and headed east. The types of land you see on this road change dramatically. First, you start in suburbia then you drive through ranch lands, then you have the foothills and then you get into dense forest.
The drive is beautiful, you wind through the trees and every once in a while you get teased with views of the tremendous rock faces of the surrounding mountains. With nothing but the sound of my 35-inch mud terrain tires roaring and my Gibson exhaust emanating a low rumble I was being lulled into a state of serenity.
When I found the dirt road I turned off and started down the easy trail, I had no intentions of going deep into the bush because I was already in the middle of the hearty forest. As I drove I would check down the small offshoot roads to find a place to camp and the first one I came upon was perfect. I pulled in and got out of the truck. There is something about the first breath of the fresh mountain air. When I got out I stood there just taking everything in. The fresh air filled my lungs, the smell of earth tickled my nose and the soft earth compressed with each step. I was surrounded by massive Douglas Fir covered in moss and Old Mans Beard. I leveled the truck and set up camp. Each time I go out I feel more confident in my set up and my abilities. I was a nervous wreck the first time I went out on a solo trip, but I have grown and so have my abilities.
After camp was set up, I grabbed my fishing gear and threw on my waders and headed to the river. When I emerged from the bushes I looked out onto a briskly flowing river that was a bright blueish green from all the minerals in the water. I walked to the edge and looked up and down the river, I figured I was in a good enough spot so I got all my gear together and waded about knee deep into the river. I could feel the cold water pushing against my legs, the water was thundering and I was in heaven. I unspooled some line and started thinking about all the How-To videos I watched and tried to emulate them the best I could. After a few casts I was feeling like I got the hang of it and I just kept practicing not worrying if I was going to catch anything. An hour flies by (pun definitely intended) and I am in love. The only thing that could have made my afternoon better was to catch a fish.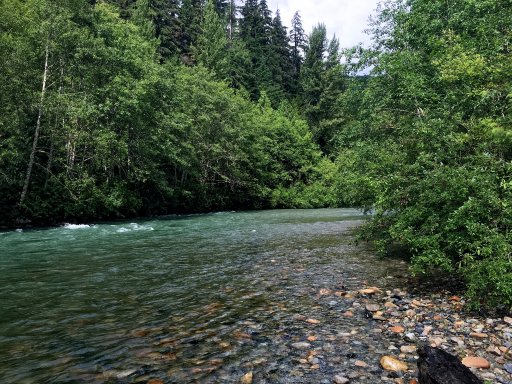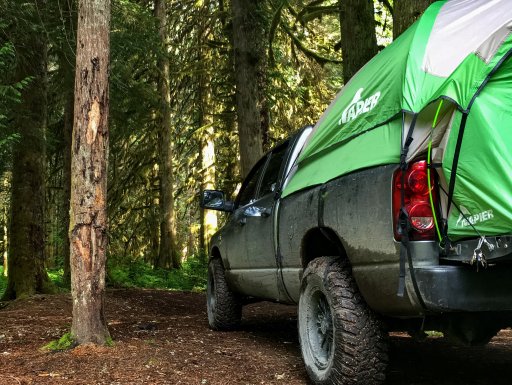 I was starting to get hungry so I trudged back towards the river bank and up to my camp. I wanted to try and start a fire with flint so I put down some Old Mans Beard and some dry twigs and after a couple of strikes I was rewarded with the warm embrace of a fire and the sound of the twigs crackling as they burned.
The night was pretty uneventful, I enjoyed the fire and read my book until it was dark. I knew it was going to be cold at night so I tried something I had learned from Cappie
@Cappy410
, I took a smooth round rock and put it on the edge of the fire to heat it up. Before bed, I grabbed the hot rock and wrapped it in a towel and shoved it into the foot of my sleeping bag. When I climbed in the rock had warmed up the sleeping bag and my feet were warm all night long.
As I laid in bed slowly nodding off to sleep I could hear the rain pattering against the tent. The rain picked up and lasted throughout the night. When I woke up I poked my head out of the tent and saw I now had a lakeside view. The campground was soggy and my chair had a huge puddle on the seat. I got out and made myself some coffee and made a plan for packing up and leaving. I walked around and took some pictures and took down camp. The road home always feels so much shorter than when you're driving to your destination. It felt like I had blinked and I was already at the "Thank you for Visiting Mt. Baker-Snoqualmie National Forest" sign and within an hour I was back in society.
Last edited: