Advocate II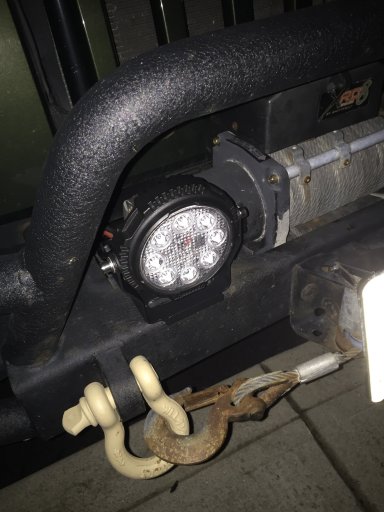 Well my Hella 500ff lights took a crap. Wanted to change the bulbs but couldn't get the screws loosened up. Plus the reflector on one of them was flaking.
I was doing some research and wanted the normal Rigid Industries Duallys. But the price was way too high for me. So I went and looked for cheaper routes. From my research I was told to look for Cree LED bulbs. Went to Autozone and Advanced and didn't find anything too amazing.
Went across the street to Tractor Supply Center (TSC) and looked around there. They have a brand of stuff called Traveller. Well they had these work lights which produce a flood beam pattern. For $82 I got two 5" Round HD work lights. They seem constructed very well and mount is pretty solid.
Got home spliced up some wires and put stuff together. It got dark out and finally got to test them! They work excellent so far!! They produce a lot of light in a flood pattern. Perfect for what I was looking for.
So if you are in the market and don't want to break your bank check these out! I would recommend them for sure. They also make light bars and square versions of these lights. If I remember I will update this thread and let you know how the work over time.