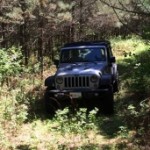 US MidWest Region Member Rep
Member

Influencer II
My wife and I will be doing the Trans Wisconsin Adventure Trail this fall. We haven't done it before, so for those of you that have, if you have any thoughts, suggestions, insights, etc on places we should stay or see along the way that would be great. I've seen some information that we would have to have a permit for a vehicle, but couldn't confirm anything there. Does anyone have a confirmation of whether or not we would actually need to get an offroad permit from Wisconsin? We will be going in our Jeep. We are open to people joining us, but would like to cap the rig total to about 5 including ours. I posted on the OLB-Midwest Facebook page, and created a Rally Point for those interested in joining.
Anything I should be on the lookout for during this time in Wisconsin?
Again, any help is appreciated.
Here's the link to the Rally Point;
US Midwest - Trans Wisconsin Adventure Trail