Hello, I live in Brussels and I am an IT guy by trade, married with 1 kid .
I want to present the work I did on the car, maybe someone has similar goals/expectations and can learn from my mistakes and experience.
So the story started in August 2018, when I bought the car, with 294.000 km on board, it is an 2009 Prado 120, last year of manufacture and hopefully with most of the early issues fixed. It is a 3.0 L D-4D - diesel, 177 HP and 410 Nm@1600 rpm.
I love this engine, is setup specifically for off road, it idles trough any obstacle, because of the low end torque.
For those who are not familiar with it, it has a Low transfer gear, and lockable central Diff and stock about 21 cm of ground clearance ( about the same as a Jeep Cherokee for example ) . Some of them had also stock lockable rear diff, but not mine. Mine has a thing called A-TRAC, seems to work fine for me. It sits on ladder frame chassis, similar with the one found in the Toyota 4runner.
It was top spec, so it has the air suspension on the back, wich I love, and all the "luxury" options at the time, like heated seats, navigation ( useless now ), moon roof..electric folding mirrors.. etc..
It replaced a Subaru forester, which was a very good underestimated car but could not handle the weight I was putting in it with all the camping gear for 3 people extended trips, specially when I was off-roading. Empty when off road, was doing great. Because of the weight I had a lot of issues, the car was bouncing heavily and also I had even brake fading on a very steep descent, lucky I was off road and doing like 15 km/h..
So learn form this, do you homework and estimate the weight of your gear and you passenger than buy the vehicle :)
Just because it has a big trunk, does not mean it can take the weight :)
This the car when I bought it.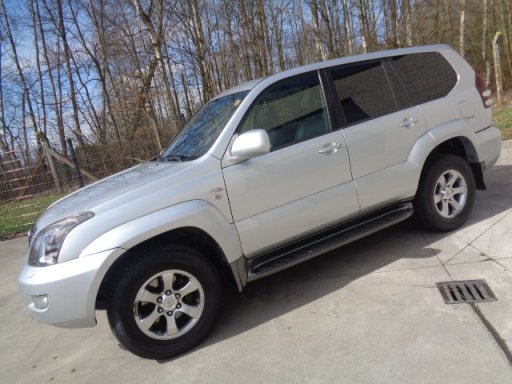 From the service history I saw it had some work done around 270.000 km, all the wheel bearings replaced. I also did the timing belt kit, the interval is every 100.000 km so at 300k km it was due. I also replaced the front brake rotors, they were not looking so good, despite the fact the car passed the inspection. I took to a Toyota dealer just to make sure there are no hidden issues, and they replaced a 5 Euro wheel nut. So far no other mechanical work except normal maintenance like fluid changes.
My goal with the car is to be able to take long trips, and be able to wild camp 2-3 days in a row, without moving to charge batteries, and be able to tackle medium difficulty tracks, just to be able to get to the nice spectacular wild places..
I won't be able to do more than 2 "longer than a week" trips /year, for sure some short week-end summer trips so in my case at least it is not worth to do a very complex setup similar with the needs of some one living in the car 3-4 months / year minimum in very remote places.
To get to where I'm going ( did a 2 week trip in Portugal during the Easter holiday for example ) sometime I need to do long stretches of highway , even 2000 km sometimes, in the summer I will have to do 3000 km just to get there ( Albania off road tour ) and the Landcrusier is a very confortable car to do that, sound insulation is very good, the ride is great and the climate control works :)
First thing that went on it were some Yokohama Geolandar 015 AT tyres, had them on the Subaru and I was happy with them. Because of the long stretches of highway I do I opted for some less aggressive tyres.
When I had the Subaru I had a ground tent, but it was a lot of work to pack up when I was moving camp, and since I was moving almost every day it became a real pain in the but..
So next I went for an RTT, I got an Autohome Columbus, the biggest version of it, L x l 210 x 165 big enough to accommodate me, my wife and out 12 year old kid. It sits on some Rhino rack heavy duty bars .
Below some pics when I bought it, at the dealer's yard in Netherlands.
If you buy a non- standard size tent and it is a Hardshell, you need to be aware that the bars need to be as wide as the tent, or you risk cracking the shell and void the warranty.
My roof bars were standard size, most of them are up to 1.4 meters, and my tent was 1.65 m wide. So I had to buy another set of roof bars , luckily I was able to reuse the feet, so this mistake was a bit cheaper.
In 4 min form the moment I stop, the tent is ready , chairs and table out and I can sit with a cold one in hand.. :)
Next I had to tackle the food storage issue. I was lucky and I found a Snomaster 35 L fridge/freezer on sale at a french online shop. It was the cheaper plastic version, the so called travel series . Overall it was not cheap, but only less expensive than the overland version, with the sale price was still around 480 euro. Snomaster is a south African producer with a good reputation in the over landing community.
I think the overland version was about 700 euro if I am not mistaken, wich is honestly ridiculous.
It is big enough to store food for our family for about 3 days. In Europe I think it is impossible to be more than 50 km away from some kind of store, so it is fine. It is not big enough to hold all the beer I drink when camping, so I have to rotate them all the time... that is the only issue I have..
Of course it failed at the second trip I took. In front it has a fuse, near an USB port that sits on a very small metal bracket on the chassis of the fridge. The metal bracket failed ( not sure why, it was really strange ) and the fuse disconnected from the support. So I crimped some wires directly and mounted another fuse holder. Is not pleasing to the eye but it works.. :) . No issues since than. It has the same internals as his more expensive brother so it draws very little power.
Next I tackled the power issue. But that will follow in another post.
Last edited: