Member III
2,358
First Name

grub
Last Name

worm
Member #

17464
Ham Callsign

WRMA515
Service Branch

USN-Submarines
Yeah, there are at least a billion forums, threads, and posts about tiny cabins and such, but I'm curious about how that would work if related to overlanding. Long story made short, the wife and I like to travel a good bit and there are certain areas that we really enjoy and like to stay at for extended periods of time. The way things are now, a lot of the campgrounds we stayed at are super full with some requiring reservations way ahead of time. So, a simple comment about "I wish we had our own place here" has led to the possibility of building a small cabin in an area we like.
We have an island in our back yard and the wife thought it would be fun to build a small a-frame type cabin on it for friends and family to stay in for a real "swamp experience". We have a finished apartment behind the house for guests, but this seems like it would be more fun. I just started a few days ago and have some of the framing up. It will be interesting to see how it turns out and if others enjoy it. This project has led me to thinking about getting a small lot in an area we like and building a small cabin. I figure the small cabin will take the place of us staying in a campground and it could also be used by friends and acquaintances as a pit stop when they travel. I'm looking at north Arkansas for one and maybe another outside of Durango.
I'm wondering if anyone else has this idea or has already done it. I'm not looking to rent it or make money off of it, I want it for me and people that I know who travel and might enjoy having it as a pit stop. It would be cool if others have something like this and we can share staying at each others place.
Its going to be moderately finished and I'm going to run it off solar instead of running a line to it so I can practice setting up off-grid.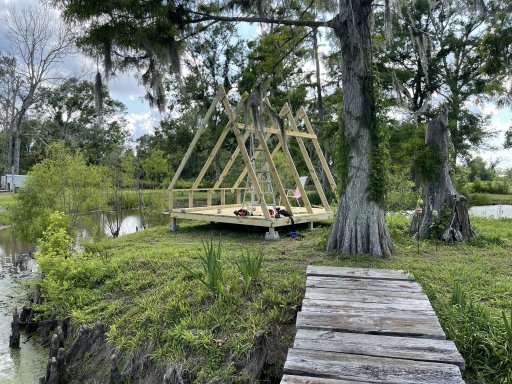 Last edited: