Pioneer I
4,528
First Name

Mike
Last Name

Nelson
Member #

27195
Ham Callsign

GMRS - WRME413
I am on a mission to find the perfect camp stove. I have 4 so far but I have been using the below two over the past 3 months trying to decide which to keep, and which to sell off. I have put some of my feedback below but I am interested if anyone have any thoughts on what is the perfect overlanding camp stove (size, build quality, performance). Me personally, I like the self standing type because it provides more table space but I am open to any thoughts or suggestions. Side note: One of my 4 is a cook partners and while the build quality is amazing, I think I am going to sell it because it is just too small for it's weight in my opinion (don't hate me). All in all I think I am getting close but my wife is starting to get annoyed with the amount of them accumulating in the garage. I am putting it out there for you guys to help dial me in.
The Camp Chef Explorer 2-burner
Size - Way too big and hard to pack up
Build Quality - Really good. Strong frame, very stable. Not too heavy but the optional flat irons weigh a ton. (I bought 2 but you only need 1) Works great with Camp Oven.
Performance - Really good. Simmer control is amazing but can blow out. No built in ignition
Overall - 4 stars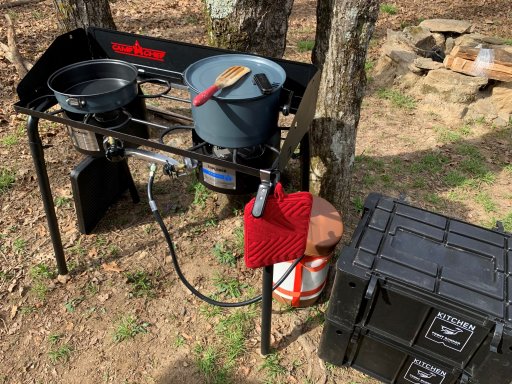 The Coleman Fyre Captain
Size - not too bad for a free standing stove. Almost exactly the same size as a Camp Chef Everest. Definitely packs much better in the truck than the Camp Chef Explorer
Build Quality - not terrible. Better by far than the basic Coleman 2 burner. A bit flimsy and a bit wobbly on it's legs. Definitely lighter than the Explorer. Basically the same weight as the Everest but with legs.
Performance - The "wind guards" they have on the burners work surprisingly well. Better actually than the Camp Chef Explorer in wind. The simmer is not perfect but after lubing the regulators I got it working close to perfect. A bit sketchy with the camp oven. A literal flame thrower this thing will boil a coffee pot in like 2 min above 3500 feet but it does run hot when trying to cook.