Contributor I
233
First Name

Dennis
Last Name

Lidicky
Member #

1688
first things first this is round 2 for me since my old sidekick i stripped and shipped off to the grave yard
when i first got the vehicle at 16 i started modifying it any which way i knew how ( bad wiring technices etc. ) this time everything will be done a bit better hopefully :P
old sidekick vs newer sidekick
when i bought this rig it had a blown motor from previous owner ran it out of oil, so i figured might as well rebuild it with no experience just a knowledge of being in the trades ( Electrician&Welding ) and friends who owned repair shops.
( that would be my Best friend helping me figure out what we did wrong )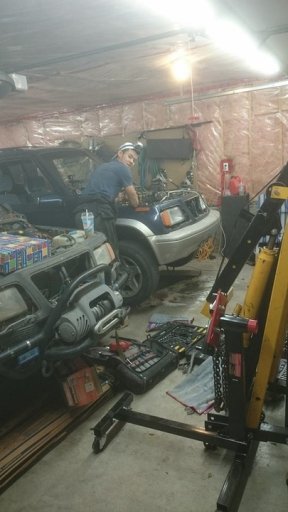 after a few months of messing around it worked it started fine and ran had a few small problems like forgetting to set cam sensor and intake throttle sensor. but all in all its been 10,000km and still running ( knock on wood )
after i got it running i decided to fix up some of the smaller things that were bothering me like the huge rust holes on the rear quarter panel ( luckly im an apprentice welder and my best friend is a licenced Autobody mechanic )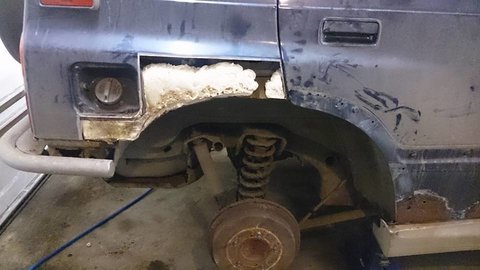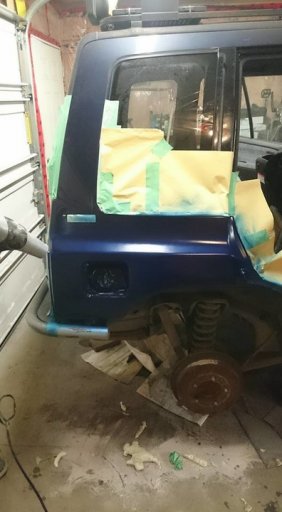 Bam and just like that new quarter panel was made with no rust
now that i was happy with the rust issue now it was time to focus on
moving over all the goodie parts i had on my old suzuki
after i sand blasted the Trail tough bumper i gave it a quick spray with this nice silver that was going to be for all the accessories and trim on the vehicle.
View attachment 6362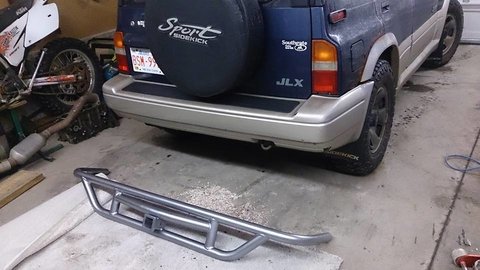 also there was a front bumper with a 10,000pounds winch which i have no pictures of
i found a set of used BFG Km2 tires 255/85r16 (33") on kijiji for super cheap
had them mounted on my old wheels and small trimming of plastic and here she stands.
as i was driving it to work i felt it had no 4wd it felt like it was tryign to engage but didn't fully click
so i pulled out the cv joints and put my old hubs from other sidekick because they were of the automatic locking type, just for ease of use and found one was fully stripped luckily i kept allot of the old parts from old one and within and hour i had it all back together and working
next up was new heated bucket seats
had a friend of mine who works on a cnc machine all day make me a set of rock rings so i can weld them onto my other set of rims
after welding them onto the new set of rims i gave them a quick clean and paint
then there was a point where i sanded the whole car down and used roll on bed liner ( from previous experience of rubbing up trees and my paint not liking that to much i figured might as well do it now)
then tested out a red rubber based paint called plasti-dip it was mainly used for dipping tool handles back in the day when the original would wear out and such. but not there's companies that thin it out so you can spray it on to just about anything and its fully irreversible just by peeling it off like saran wrap.
chose a nice bright red that's a common color and you can get small single cans at part source and such in case you damage parts of it. Then had to make a hitch tire carrier because there's no bumpers that are made for these with swing out tire holders. so i made a folding arm that folds and extends away from door so i can still fully use the rear door
Finally the weekend rolled around and went wheeling =D
Last edited: