US East Region Member Rep
Staff member
Member

Off-Road Ranger I
3,651
First Name

Drew
Last Name

Hawley
Member #

1537
Ham Callsign

WRBZ674
Since I joined Overland Bound I've seen an increasing number of Subaru driving members. Please feel free to post a picture of your vehicle, a quick description if you like, and a link to your build thread.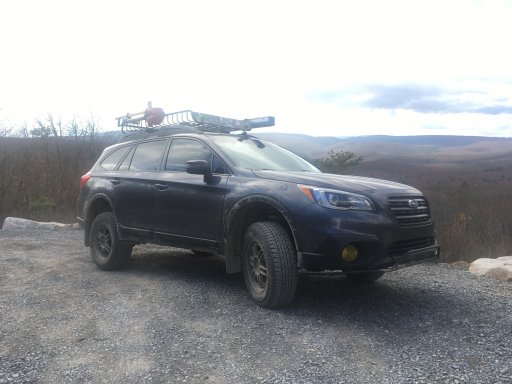 2015 Outback Limited
Here's a short list of the more obvious, and some that aren't, mods.
ADF 2" lift with multi link spacers
Offroad Subaru front springs (+1.25")
RalliTEK super raised rear springs (+1.75")
LP Adventure brush guard
LP Adventure EVAP bypass
LP Adventure rear sub frame sliders
Primitive Racing front, mid, and rear dif armor
Yakima Loadwarrior with extension
ARB 2000x2500 awning
Rally Armor flaps
Enkei RPF1 wheels
Yokohama Geolander G015 tires
Traction Jack traction mats
My build thread with more mods and more details..
https://www.overlandbound.com/forums/threads/but-its-a-subaru-outback-build-thread.2423/