Contributor I
New, unassembled. See photos. Link to vender site:
CRUX Offroad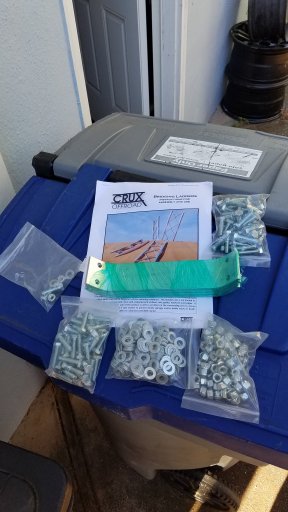 Ended up with an extra set after a buddy backed out of the purchase. That took a few months of back and forth. This set has been sitting in the garage for some time now, forgotten until I started packing up for a move.
I am in Mountain View, CA (ZIP = 94040). Shipping weight ~50lbs. Can arrange shipping of your choice or local pickup. I'm willing to drive a 20 mile radius from Mtn View to meet.
Long shot and likely complicated: I am also traveling from the San Jose CA area to south of Missoula MT on July 22-23. I will be in Ravalli County for the week. Route is I80 to Wells, NV then north on US93. We overnight in Elko, NV. Return trip to CA July 29-30. If you are along that route we can also try to arrange a hand-off.
Last edited by a moderator: